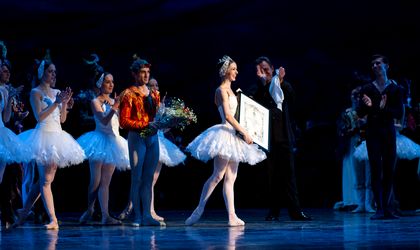 Bucharest National Opera is re-booting Romanian choreographer Gheorghe Iancu's Swan Lake ballet, a twist on Oleg Danovsky's first staging which gave Iancu his inspiration. Since 2008, when Iancu first brought this performance to the stage, the artists have grown spiritually, artistically and physically, he says. Chief among them, prima ballerina assoluta Bianca Fota made her debut as Odette/Odile back then and returned this season. BR asked what it feels like to play the most coveted role in ballet.
By Oana Vasiliu
You had your debut on the Bucharest National Opera stage with this version of Swan Lake, but in a different format. Was it difficult to readapt?
I consider the latest performance a premiere, mostly because the ballet company is not the same as it was for the 2008 premiere: several seasons have passed and probably 80 percent of the company are newcomers. We started to work on this new performance in June 2013, and although the roles are the same as in the previous performance, the approach was different.
What does Swan Lake mean to you?
First and most important, Swan Lake is a dream that became reality, the dream that every little girl has when she starts taking ballet classes, and also the dream of every classical ballet dancer. The roles are all complex and it is difficult to stage as it has four acts and lasts almost two and a half hours. It also entails a variety of positive and negative feelings, according to the role you play in the performance.
This season, you are playing the main characters in the performance and also the Mother Queen. How hard it is to interpret three roles in the same show?
My relationship with Swan Lake started a long time ago, since when I have played most of the roles, from a supporting character in the Neapolitan Dance scene, on my debut, to the small swan, big swan, Mother Queen and Odette, the most complex of all characters.
In terms of interpretation, I think of Odette, Odile and the Mother Queen as distinct characters. The Odette-Odile interpretation is a transition from positive to negative, quite simple to perform as the two characters have different personalities and I treat them as separate entities.
But when it comes to the Mother Queen character, the performance changes, as in my opinion this character stands for Gheorghe Iancu's immortal creativity. From all the characters of Swan Lake, which means a full range of dancers, the Mother Queen's dance has something special and unique, almost Gheorghe Iancu himself.
How was your collaboration with choreographer Gheorghe Iancu for this performance?
I have been working with Gheorghe Iancu for several years now and I have learned to mix the choreographer's demanding technical requirements with my own personality, as a ballet dancer should do.
Do you have a costume in this performance that you enjoy particularly?
Although is quite difficult to perform with the Mother Queen's Cloak on stage, I believe it is the most beautiful costume I have to wear for this performance, both elegant and imposing.
How is the transition from the rehearsal room to the general rehearsal and then the performance before the general public?
The surface of the stage loads me, giving me energy. As a mature dancer I can say that I don't have overwhelming emotions but constructive ones when it comes to performances. Of course, I like it much more on stage with an audience wanting to see what I and my colleagues have to offer them.
This month, Bianca Fota will debut in Iancu's latest performance Women as Masa, on June 7, and in the main role of La Sylphide choreographed by Johan Kobborg, on June 22. She will also play the Queen Mother in Swan Lake, on June 11. All performances take place at Bucharest National Opera, at 19.00.