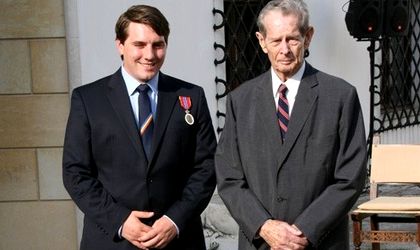 Prince Nicolae, the son of Princess Elena (the second daughter of Romania's former King Michael), moved to Romania today, according to Adevarul newspaper that quotes sources close to the Romanian Royal Family. He will handle some of the public activities of the family.
The Geneva-born prince, aged 27, is third in succession to the throne in Romania. He is followed by his younger sister, Elisabeta Karina, aged 23.
Prince Nicolae was awarded in 2010 the title of Royal Highness and received the royal decoration Nihil Sine Deo from King Michael.
The prince is a graduate of the Shiplake College in Henley-on-Thames and the Royal Holloway within the University of London.
Prince Nicolae worked for the World Challenge, a company that gets children accustomed to extreme sports. Aside from this job, he was a waiter and an employee of the Tesco store chain. He attended a chef school and acted as an extra in movies.
King Michael presented the prince as the future king of Romania two decades ago from the balcony of the Continental Hotel. This happened during a rally in support of the king that was attended by hundreds of thousands of Romanians.
Prince Nicolae later said this was the most intense event he experienced in Romania.
Ovidiu Posirca
Prince Nicole and King Michael I during the 2010 ceremony – Picture courtesy of the Royal Family (www.familiaregala.ro)