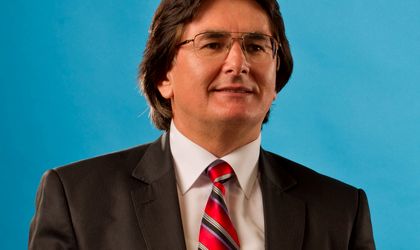 Timisoara's City Hall is currently working on some 200 projects for which it wants to attract EU funding and which will further improve the city's already attractive investment climate, Nicolae Robu, mayor of Timisoara, told BR.
Simona Bazavan
What are the main five reasons that a company, be it local or foreign, should invest in Timisoara over another city in the region?
Timisoara's success in attracting foreign investors is the result of its favorable geopolitical position, developed technical and communication infrastructure, well-qualified labor force, attractive business environment and, last but not least, the openness and constant focus of the public local authorities on attracting foreign investment and encouraging business.
First of all, Timisoara is Romania's gate to the West, an important pan-European road node located at the junction of national and international road and rail transport networks. We also have the Timisoara International Airport. The second reason is the city's modern infrastructure and the fact that it offers investors an extensive business support infrastructure – industrial parks, business incubators, a technological transfer center in the software industry, a regional business center and so on.
Its sustained economic development pace makes Timisoara the main growth pole after Bucharest, and this is the third reason. The city generates 80 percent of the county's turnover and over 30 percent of the region's, and offers a favorable investment climate.
Another important aspect is the fact that Timisoara offers a qualified, well-trained labor force, being one of the strongest university centers in the country – with over 50,000 students – and it also has schools preparing workers for the city's businesses. And Timisoara is an administrative center.
What are the main incentives and facilities offered to companies that invest in Timisoara? Do you plan on adding new such incentives in the future?
The measures for stimulating investments include offering fiscal facilities and investing in infrastructure. We have made the administrative system more efficient and reduced bureaucracy, and we provide business support infrastructure by offering investors an area with utilities in the Freidorf Industrial Park and accessible spaces in business incubators. At the same time, we introduced a 'de minimis' aid scheme, a set of fiscal facilities granted to businesses making an initial investment.
These facilities can be a reduction or exemption from the payment of building or land tax, depending on the value of the investment made and the new jobs created, under the condition that the investments and jobs are maintained for a minimum of five years. These measures target both Romanian and foreign investors. For foreign investors we have an active policy of attracting them through sustained international relations activity.
What are the main elements of Timisoara's economic development strategy for the coming years? Are there priority industries you would like to promote?
We are aiming for innovative, sustainable economic development, based on high value-added services, using a qualified work force, while developing industrial sectors using high tech, IT and telecommunications. As such, one strategic direction is the implementation of projects that entail the establishment of integrated innovation and applied scientific research structures to improve knowhow. At the same time, programs looking to establish business support infrastructure are a priority.
From a strategic point of view, we will look to develop horizontal ties in target areas such as the auto industry, software and telecommunication by implementing projects stimulating the growth of company networks or clusters. We are encouraging the development of the tertiary sector, of services based on advanced knowledge and intelligence (electronic services, software, consultancy, including legal services etc.) of the banking and insurance services, tourism, trade and business support services.
For which projects are you planning to access European funds in the 2014-2020 programming period?
We are preparing 200 projects, our own and in partnership with universities, schools, institutions and clusters. Among these, one strategic project is the Tehnopol technological innovation park. In partnership with several universities we have put together a detailed development concept for inventions and innovations for IT&C, the auto industry, bio and renewable energy, all on a 92 hectare surface. The project involves the implementation of business structures for companies from the start-up phase to finish, at various development stages.
Timisoara is an important logistical center, and the national transport strategy identifies it as a strategic location for the setting up of an intermodal goods transport center, for the construction of which we have a project financed in the 2014-2020 programming period. We also have large transport infrastructure projects focused on sustainable development: the Timisoara rail ring road, the shifting of railroads underground, the renovation and expansion of the Timisoara-Kikinda (Serbia)-Szeged (Hungary), Timisoara-Szeged through Cenad railroads, the modernization of Gara de Nord, modernization and extension works at rail and road passages, the city's ring road, the development of the navigation infrastructure on the Bega river channel, the extension of tram lines to surrounding localities, which are part, along with us [e.n Timisoara] of the Timisoara Growth Pole, the acquisition of ecological transportation: electrical trams and buses and many other projects in all areas.
What investment works, especially infrastructure related, with an impact on the business environment are currently being undertaken in Timisoara?
Earlier this year we inaugurated the TIC-Incuboxx for high-tech companies (56 companies) and a business incubator in the Dumbravita commune (17 companies). The commune is part of the Timisoara Growth Pole, for crafts and services. Next year we will complete the regional center for skills and the development of providers in the automotive sector in the Freidorf Industrial Park. It is a services and training programs space on an 8,000 sqm surface.
Which new companies are interested in investing in Timisoara?
One example is Contitech Romania, a producer of car and car engine parts and accessories, located in the Freidorf Industrial Park which has asked to lease a 20,000 sqm plot because it needs to create 150 new jobs. Another similar request came from Data Incorporated which wants to build storage space for equipment for the photovoltaic panel production line and testing area.
We also know that Linde Gaz – Global Services is adding 300 new jobs, Continental Automotive – Software Automotive is expanding with 600 new jobs, Microsoft will also increase the headcount at its service center, TT Electronics-Integrated Manufacturing Services will open a new production unit in Timisoara and Hella will expand its research and development capacity.