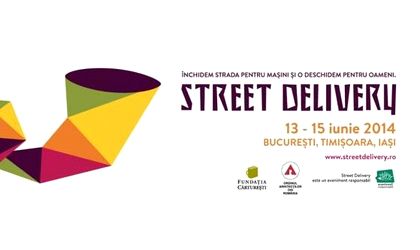 Street Delivery, the manifesto-event dedicated to architecture, urban living and culture, has reached its 9th edition which will take place from Friday to Sunday in Bucharest, Timisoara and Iasi.
Street Delivery is a free-of-charge, environmentally friendly event that challenges its audience to imagine a city where pedestrians owns the streets just as much if not more than cars. A city where people are the priority and life is worth living. So far, that is not Bucharest, the organisers say, and they want to create an event that can represent the prototype for the way a pedestrian's city is supposed to look and behave.
In 2014, Street Delivery has reached its 9th edition in Bucharest,. 8th edition in Timisoara and 2nd edition in Iasi. Among the novelties this year we include Street Delivery extending to George Enescu Square where Street Delivery Sports will take place. The audience is also welcomed to walk the halls of the University House near Arthur Verona street. Î
So, in a nutshell, Street Delivery will take place on Arthur Verona street and in George Enescu Square, on Marasesti street in Timisoara and on Vasile Pogor street in Iasi.
"Mobile society" is the theme for the year, combination of theories regarding civil society and mobility.