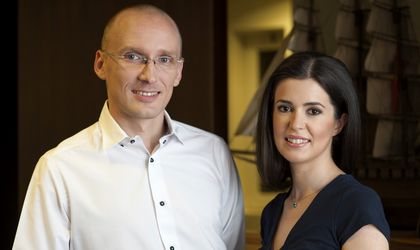 In July 2012, Stefan and Adriana Liute left Grapefruit and started their own branding agency – Storience. The name (a portmanteau of story and experience) sums up what the duo sees as the main ingredients in the construction and communication of a brand. In two years of activity, the company has signed up such brands as Activate, Clotier, Avenor College, Shakespeare School, Unica pharmacy, Honeywood, Alevia, Bookster, Nedcon and McCann PR. It has also won gold at the A'Design Award 2014 and bronze at the Transform Awards 2013. At the beginning of the year the firm launched a new venture, opening an office in London and trying to gain more international clients.
How did the opportunity to work for a UK client come about (who found whom)? How did you edge out the competition?
Adriana Liute (AL): Our client in the UK approached us via a referral. In fact, all our foreign clients have come to us through referrals, and only recently have we started also to get prospects who say they "stumbled upon our website". I think that having an office in London helps with the perception that we are a suitable agency for a Western company. Our UK client, Activate Event Management, told us we competed for this rebranding project with two other UK-based agencies, and that our portfolio is what convinced them.
How was this first experience for you?
Stefan Liute (SL): Rebranding Activate has been a great experience. Thanks to the client, who was very focused and responsive, this was probably one of the smoothest projects we've been involved in so far.
The success of the project was the main reason we opened an office in London.
 How did you choose your space and the team? Prior to this step, did you have other UK-based clients?
AL: We chose the Bethnal Green area for its proximity to the creative hubs of Shoreditch and Hackney, and to the City of London. We (Stefan and Adriana Liute) are now based in London, traveling frequently between there and Bucharest. Our team in London also includes Ioana Jago, who successfully coordinated the Activate rebranding project. Activate was our only client in the UK when we opened the office.
What can you tell us about your second international project – the University of Geneva?
SL: For the University of Geneva we are currently developing a digital presence for a digital humanities project. That means a modern, responsive website that showcases digital versions of unique ancient manuscripts. This project will launch in a few days.
What persuaded you that moving to London was the right path for you?
SL: London is the world's largest and most competitive market for branding services. So, for someone truly passionate about this field, London is a magnet.
Working in this market can only improve the work we do for all our clients worldwide. We know that making it here is neither guaranteed nor easy, but we never really had a doubt that we wanted to do this.
How has the local competition received you? How are you seen by the branding agencies in the UK?
AL: It is too early to tell how our competitors here regard us. We are not yet well known locally. However, our storytelling skills (Zamburi-style) are very noticeable and appreciated in London, even by other branding agencies.
Although gift cards are very diverse and popular in Britain, our creative concept (ultra-short stories for grown-ups inside gift cards) is fresh and unique.
 What is your business target for the first year in London (number of clients, turnover, etc.)?
AL: We want to dedicate 2015 to exploration and networking, so our objective is not about turnover or number of clients. Right now we are trying to plant the right seeds for a very productive 2016.
When you started your company and went it alone, did you foresee this trajectory?
SL: The gates didn't open themselves for us, we pushed them. We admit that opening a Storience office in London did not cross our mind when we started Storience in Bucharest. But when the idea came up, we decided to go for it. The truth is, we are an internationally awarded agency so, since we already operate at international standards, why not open up for the international market?
What will happen with the local Storience office? Who will be in charge for Romanian clients?
AL: We continue to be involved and to oversee the projects in Romania, with the support of our team there. We do that on a day-to-day basis, and we also travel there whenever needed.
 Romanita Oprea