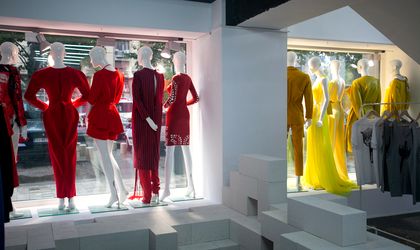 We could tell you how many shopping days are left until Christmas, but we don't want to scare you! Worry not: BR is here to help, by taking the stress out of your seasonal shopping with a raft of recommendations for local designer fashion boutiques.
By Oana Vasiliu
Cocor Store
Unique for the Romanian fashion designers' gallery on its second floor, which currently brings together more than 30 local designers, Cocor offers a variety of clothes and accessories at affordable prices as well as bespoke options. Brands include: Malvensky, Razvan Firea – Royal T collection, Maria Marinescu, ManurÍ, Naiv, Răzvan Vâlceanu, Novus by Denisa Tudor, Geanina Punkosti, Anca Puiu and Aura Salabaşev – Aruana brand, recently presented in the gallery, as well as Andra Andreescu, Alexandra Calafeteanu, Adelina Ivan, Anca & Silvia Negulescu, Anca Radulescu, Andreea Raicu, Andreea Visescu, Agnes Toma, Bold, Casual Monday, Cathias Edeline, Clara Rotescu, Corina Vlădescu, Cristian Samfira, Cristina Nichita, Dana Păun, Deea Buzdugan, Elena Perseil, Kinga Varga, Lavinia Nistor, Laura Olteanu, Lena Criveanu, Mândra Chic, Mihai Albu, Mirela Diaconu, Molecule F, Murmur, Norina Stoica, PNK Casual, Rhea Costa, Simona Semen, Ștefan Burdea, Ștefan Muscă, Ștefania Caragea, Stephan Pelger and Studio Cabal.
29-33 I.C. Bratianu Blvd. www.cocor.ro
Dada
The epitome of a concept store. After enjoying a fusion lunch in the unmistakable Dada style, you can pick up a dress or bag at production prices. Why? Because the building's upper floor hosts the Dada factory itself. Downtown, Dada products and other fancy labels can be found in the little shop at Piata Amzei.
94bis Matei Voievod (restaurant/showroom), 1 Tache Ionescu (shop). www.dada.ro.
EGO
For a made-to-measure Ego suit, international designer Louis Purple does the outline. A complete gentleman's outfit comprises jacket, shirt, trousers, shoes, tie/bowtie, cufflinks and handkerchief, and prices vary depending on the customer's needs.
2 Lascar Catargiu Blvd., Baneasa Shopping City, www.egofashion.ro
Eva – Romanian Design
Launched in May, Eva – Romanian Design is a pop-up store seeking to demonstrate that an urban experiment can be a successful business model using the idea of association. The project uses the pop-up shop system, where every designer brings his/her own stand and hosts a window display. Currently, the fashion gallery hosts 14 Romanian designers and brands, namely Ana Alexe, Adelina Ivan, Irina Schrotter, Venera Arapu, 109, Fandacsia, Lady Magpie, Murmur, Ciprian Vrabie, Le Petit Indigent, Parlor, Carla Szabo, Patzaikin and Maria Marinescu.
Kristina Dragomir Hats
Artistic hats are created on frames made by the renowned UK Royal House specialists, with the finest and most exotic materials purchased in London, where the designer learned her craft. This is a fantasy world where women have no limits. Kristina Dragomir is available to discuss bespoke hat options and give styling advice by appointment only, from 18.30-21.00, Monday to Friday.
51 Mihail Kogalniceanu, 2nd floor, access code 11. www.kristinadragomir.com
Madame Briolette
A window full of heads wearing hats, berets and caps on Magheru Boulevard heralds a store with modest interior design, but this means little given the shelves of headgear waiting to be tested. Aside from fur hats made in Poland and Ukraine, a multitude of felt options and classic models in many colors are created in Romania. Hand-knitted hats and shawls from Hunedoara villages and plenty of colorful leather gloves are among the many other accessories. And all at very affordable prices.
Briolette du Cinema, 29 Magheru, corner with Biserica Amzei; Briolette Boutique, 12 Ion Campineanu
Musette
Comfort and a classic feminine look, designed by an Italian team, are what characterize the Romanian-based footwear brand Musette. Bags, clutches and belts, defined by color and style, are also manufactured under the same name. Cristhelen B is Musette's premium brand for woman, an exclusive line produced in limited editions. For men, the Giannini line of shoes and accessories is made to the same high standards of quality and affordability.
114 Calea Victoriei, Baneasa Shopping City, Bucuresti Mall, Unirea Shopping Center, Promenada Mall, Mall Plaza, AFI Palace Controceni. www.musettegroup.ro
Nissa
A one hundred percent Romanian apparel brand for women with a modern-classical style in keeping with the latest international trends, but a very good price/quality ratio. There is a network of shops, most of them in malls, but also a flagship store close to Romana Square (39 Dacia Blvd.).
Unirea Shopping Center, AFI Palace Cotroceni, Cora Pantelimon, Centrul Comercial Feeria-Baneasa, Centrul Comercial Orhideea. www.nissa.ro
Sarto Made to Measure
At Sarto, the clothes are made in Italy, after the client is measured. The final adjustments are carried out in the Bucharest workshop, with the entire process taking up to four weeks. For those interested in wearing the best materials, Sarto offers cashmere suits and even Vicuna wool, the most expensive fabric material in the world.
22 Nicolae Caramfil Street, www.sarto.ro
Sepala
The footwear brand Sepala, Mihaela Glavan's high-end line, embraces minimalism. Shoes are simple, with well-defined cuts and cutouts. The must-haves of the A/W collection are the over-the-knee boots and high platform shoes, which channel the sexy look, in parallel with low biker-inspired boots. Sepala Kids and RSM for men make the shopping experience one for the family.
104 Sabinelor Street. www.sepala.ro
Trend's by Adina Buzatu
A touch of refinement and an interwar atmosphere grace the first boutique dedicated mainly to men's apparel. Shoes from Ortigni and Bensimon, Albert Thurston braces, Borsalino hats, plus an impressive collection of cufflinks and ties are all on offer. From the classic casual and elegant designs of Messagerie to the progressive Babette Wasserman, the pieces are versatile and easy to match. But if you're not sure, don't hesitate to ask the owner, who is always pleased to help style customers.
83-85 Calea Victoriei (Downtown boutique), BaneasaShoppingCity, ground floor. www.adinabuzatu.ro
Tudor. Personal tailor
For a perfect item of clothing, the material should combine almost seamlessly with the stitching. Tudor.Personal Tailor works with four local tailors with experience of 30-55 years in the field, but also draws on expertise from specialists in marketing, fabric and back office operations.
1-3 Episcopiei Street (inside AtheneePalace Hilton). www.tudor-tailor.com
Venera Arapu
A mono-brand store with a distinctive interior design signature, fashion designer Venera Arapu presents a range of clothing from evening gowns to shirts and coats, all suited to strong and non-conformist women, yet endowed with refinement and elegance.
42 Calea Dorobantilor Street. www.venera-arapu.com