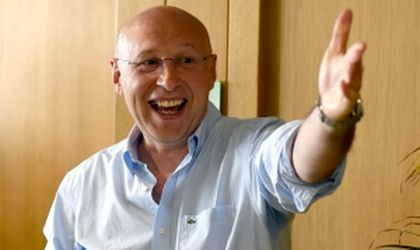 Stefan W. Hell, one of the three Nobel prize-winners in the field of Chemistry this year that was born in Romania, said in an interview for Digi24 that the education he received in Romania, having moved to Germany in his teens, helped him out a lot in his research work. The main difficulty was overcoming other researcher's lack of confidence and he also says he's planning on coming back to Romania to inspire scientists here.
Asked if there are still any connections between him and Romania, Hell answered:
"I'm a member of the academy so I visited Romania a couple of times last year. I received a Doctor Honoris Causa diploma on behalf of the Vasile Goldis University in Arad and the Polytechnic University in Bucharest. I feel very close to Romania, I was born in Arad. That's where I found science. Roots are very important to me. (…) In Timisoara, for the first time, I found physics. I won a local physics contest and I was encouraged to continue my studies. The education I received then in Romania helped me a lot. It made my life a lot easier. When I got to Germany it was easier for me".
Stefan Hell also said in the interview that his phone has been ringing off the hook since yesterday so probably nobody from Romania got through to congratulate him but "he is happy that Romania is proud of the award".
"I believe what happened today (AN: Wednesday) shoes that work, perseverance and the basic education I was offered in Romania were very important. Everybody can be as proud as I am of this award", Hell said.
He also mentioned he's had talks in the past with the president of the Romanian Academy to visit the country for a series of talks.