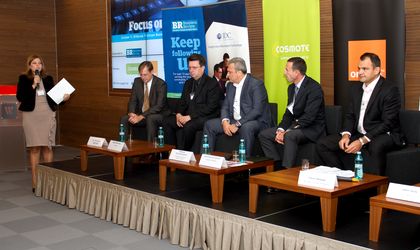 The drop in termination rates and the impact they will have on telecom operators' businesses and investments they will make locally was among the main issues under discussion at the Business Review event Focus on Telecom.
Termination rates are the price paid by a telecom company to another operator for finishing its customers' calls in the latter's network. This rate can be found on the bill paid by the customer who makes the call.
Starting this fall, termination rates in mobile telephony were axed by 24 percent to 3.07 eurocents per minute, this being the second time that the maximum threshold of these tariffs were lowered since March, as ANCOM announced at the end of August. Further drops in termination rates will take place in the future.
Overall revenues obtained by telecom operators from the termination of voice calls reached EUR 0.47 billion, representing 13 percent of the overall value of the market of electronic communications, announced ANCOM at that date.
Chief representatives of Orange Romania and Cosmote Romania appealed to the authorities to take into consideration, when setting the termination rates, that operators will need to make large investments in the deployment of 4G and the coverage of blank areas, under the newly acquired licenses. "These tariffs are a significant part of our revenues. ANCOM is currently working on setting the new rates. These rates will really impact us a lot. Give us the room to make the investments in LTE. If these termination rates go very low, we will be very constrained," said Jean-Francois Fallacher, CEO of Orange Romania.
Stefanos Theocharopulos, CEO of Cosmore Romania and GM of Romtelecom, agreed with this view, adding that prices of mobile communication services in Romania are already among the lowest in Europe.
In response, Catalin Marinescu, president of ANCOM, explained that there are different termination rates across Europe. "Until the end of 2012, all the EU regulatory authorities should define a model of hypothetical efficient operator costs and, based on these costs, calculate the termination rates in every country. Based on cases in other countries, when termination rates drop, operators' revenues will decrease but their costs will decrease as well. The authority will treat this issue with responsibility and take into consideration all the issues on the Romanian market," said Marinescu.
 Otilia Haraga