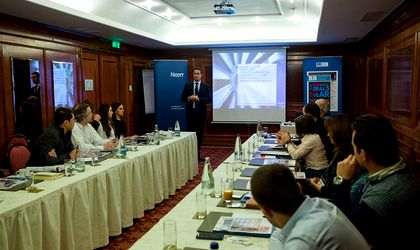 Romania still has around EUR 1 billion in untapped state aid funds, and local companies must submit projects by early spring to benefit from these financing facilities, said experts during the Access to Finance workshop organized by Business Review last week.
[restrict]
The government is planning new schemes starting in July 2014, although the allotted funding and criteria are still under consideration.
According to Iulian Sorescu, associated partner and head of the financial department at Noerr Finance & Tax, the new schemes should in theory continue to focus on manufacturing and innovative/high value added services, as authorities aim to support the creation of new jobs.
"It is very possible that the new financing percentages will not be as generous as they currently are, namely 40 percent in Bucharest region and 50 percent for the rest of the country, but will be lower," said Sorescu.
Going forward, the EU state aid plans to put in place new regulations that could facilitate SMEs' access to state aid, ahead of multinationals'.
State aid split into three schemes
The Romanian authorities put in place two state aid schemes worth a combined EUR 1.6 billion back in 2008, which were linked to the level of investment and the number of new jobs created. They focused mainly on manufacturing, although investments in medical and tourism sectors were also accepted.
One of the schemes, regulated by GD 753/2008, applies to investments over EUR 100 million that create 500 new jobs. This has seen limited success as out of the overall budget of EUR 575 million, a little over EUR 100 million has been accessed by companies.
A second scheme, regulated by GD 1680/2008, applying to investments ranging from EUR 5 million to over EUR 30 million, with different job creation thresholds, has proved to be very popular with close to half of the funding having been taken up.
Under these two facilities, companies can use state aid to cover investments in assets such as productive buildings, machines, equipments or licenses.
A new scheme worth EUR 136 million, regulated by GD 797/2012, was rolled out in 2012, focusing on innovative investments and targeting the IT&C and R&D sectors, and around half of the funds have been allocated. This facility allows companies creating over 200 new jobs to get finance for the gross salary and all related taxes for two consecutive years.
Sorescu explained that it takes a minimum of three to five months before financing approval is obtained. He therefore advised companies to prepare the application and submit the Financing Request to Ministry of Public Finances as soon as possible, so as to be enrolled under the current scheme.
Under state aid law GD 1680/2008, the maximum financing level for Bucharest stands at over EUR 22.5 million, while outside Bucharest is over EUR 28.1 million.
Firms that make investments backed by state aid will undergo a five-year monitoring period, during which the authorities will check the main parameters of the investment such as turnover, profit, taxes paid to state budget, number of employees. In fact, the local state mechanism is designed so that the government recovers the grants through the taxes it collects from companies using this facility.
How to apply for state aid
Noerr representatives explained that the main documents to be included in the state aid application are the technical and economic study (or a business plan for innovative projects) and an investment plan. Beside them, a business model for existing and future period and a statement of workplaces to be created, alongside a presentation of the impact of the project in the region are needed.
The role of a professional consultant that guide the company during the application process is not only to ensure that the state aid application fulfills the legal criteria, but also to structure and implement the concept of the investment project into the application.
According to Sebastian Popescu, financial advisor & auditor at Noerr Finance & Tax, the technical and economic study runs to 100-200 pages and has a similar structure for both production and innovative projects.
Sorescu added that the investment for scheme for IT&C scheme can be implemented in several locations, while the investment in production fields should be realized in a single location.
Noerr says that their state aid portfolio amounts to investment projects of about EUR 700 million which created more than 5,000 jobs in various sectors.
For instance, it assisted Premium AEROTEC, a company of the EADS/Airbus Group, in taking out EUR 18 million for a EUR 90 million greenfield investment in Romania. Most of the successful projects were in the automotive sector, the French car parts maker Valeo and German automotive producer Continental being only some examples with EUR 9 million and respectively EUR 11,7 million state aid obtained to expand local production.
Ovidiu Posirca
[/restrict]