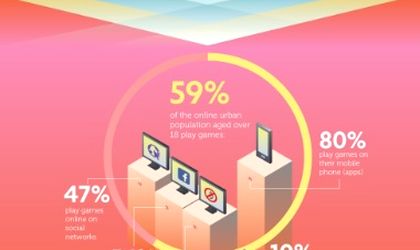 Almost 60 percent of the internet users with the age over 18 are spending their spare time playing online games, on different devices or on their mobile. They are motivated especially by the desire of getting rid of the everyday worries (waiting time or negative emotions), but also by the desire to prove their abilities.
From this segment, 80 percent of the users prefer to play on their mobile and from the percentage of those who chose to play online, 73 percent decide to play on the socializing networks. The results are revealed in a recent study made by Starcom MediaVest Group, about online gaming.
The players are both men and women, especially in the 25-34 years old segment. They are playing around 2,9 online games on average, mainly on specialized websites or social networks. Every games session takes an hour on average. The users prefer to play on the laptop/desktop or smartphone, especially in the afternoon and the evening.
During a week, the users are connecting to the Internet with the purpose of playing almost seven times. The action of playing online is more of a solo activity. The games the users are opting for are in general the free ones, most of them in the puzzle category, the educational, the aptitude developing games or AdventureQuest.
Moreover, almost a half of the users (46 percent) chose to play online on foreign websites, while only a 24 percent of them chose the Romanian websites. Besides the Facebook games, they are opting most of the time for websites such as gameforge.com, goodgamesstudios and computergames. The most popular platforms are Xbox, Steam, PlayStation, GamersGate.
The persons that prefer the most to play on the mobile, different games installed as applications, are part of the category of 18-34. They are playing on medium 3 games daily. Unlike the online players, they are spending 30 minutes or less of a game session. This category prefers to play at home, in the public transport or at work and less on the social contexts.
The preferred games are also the free ones, such as Candy Crush, Angry Birds, Diamond Dash, Fruit Ninja or Temple Run 2. Only one in 10 users chose to pay for the mobile games.
Both the users that chose to play online and the ones that chose the mobile are willing to receive advertising during the online game, help a social cause and are open to other benefits that can be directly used in the games.
Online Gaming is the most recent infographic in the series HumanGraphExperience created by Starcom MediaVest Group and the only study about the video games realized at the urban level. The study has a sample of 2.563 persons, in the urban area.
Romanita Oprea