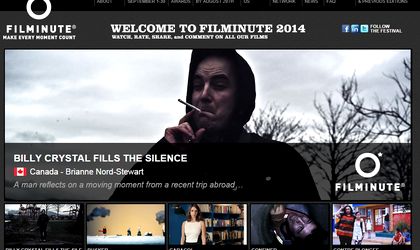 The 9th edition of the international one-minute film festival, has come to a satisfying close. The international jury has awarded Best Filminute honours to Spanish filmmaker Ignacio F. Rodó for his delightful little horror film TUCK ME IN.
25 films from 18 countries were in competition. TUCK ME IN was lauded by the international jury for its performance, pace, and success at "making a familiar situation unfamiliar."
Commenting on his winning film, Rodó said the goal had been to "inspire some psychological terror in the audience, such that they would keep thinking about the story even after watching it."
The Filminute audience, who voted online from 130 countries for their favourite from the collection, awarded People's Choice honours to Portuguese director André Marques, for his heartwarming film GRANDPA. The film, a moving commentary on fatherhood in contemporary society, was very popular with the global audience whose comments included "touching" and "poignant", with some even admitting it brought tears to their eyes.
Meanwhile, Top Rated honours at Filminute 2014 went to U.K. director Riccardo Servini's superhero-inspired, job interview comedy EARTH'S LAST HOPE.
The 7-member international jury, including Jennifer Baichwal, Isabelle Danel, Kristen Schaal, Wain Choi and Khris Burton also awarded this year's 5 Jury Commendations to: Busker (UK), Grandpa (Portugal), Caracol (Spain), The Trail (South Africa), and Contre Plongee (Morrocco). For Busker, it is the second year in a row that stop motion animation director Trevor Hardy has made the Jury Commendation list.
Finally, the Filminute 2014 CineCoup Prize went to this year's Best Filminute winner Ignacio F. Rodó for Tuck Me In. CineCoup is a Canadian film "accelerator" that helps indie filmmakers to develop, market and finance their feature films. The CineCoup judging panel awarded the film for "the tension it was able to build up in 60 seconds, the powerful emotional response it provoked, and the way it sets up theaudience for a deeper story." The prize includes a cheque for $2,500 dollars (CAN).
Filminute is the international one-minute film festival that challenges filmmakers, writers, animators, artists, designers, and creative producers to develop and submit the world's best one-minute films .