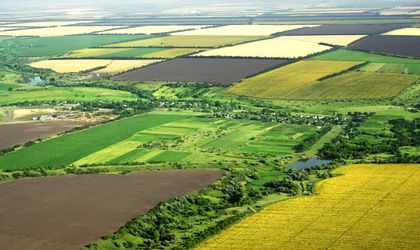 Romania's agriculture continues to be cited among the sectors that provide the most attractive investment opportunities in the country. With farmland that is still cheap compared to Western European countries and the promise of better-targeted investments through European funds made available until 2020, the sector is poised to appear increasingly more on investors' radar.
Simona Bazavan
More than eight years after Romania joined the European Union (EU,) and over EUR 10 billion in EU funds later, the country's agriculture sector has managed to register progress in many areas, including higher cultivated surfaces and overall crops production, statistics show. In fact, all agricultural sectors have posted growth – albeit many farmers and industry representatives argue that this is still well below potential – and new ones such as organic farming have emerged and are starting to gain ground. All this has in turn generated demand for a wide range of connected services and products – such as dedicated financial and consultancy services or the sale of farming equipment – and are shaping up what should become a consistent agribusiness market.
Cheap farmland and available EU funding have been the main selling points that have caught the eye of both local and international investors. The latter in particular have invested locally to the point that, according to estimates, more than 7 percent of the country's farmland is now owned by foreigners.
Despite the progress reported in recent years, several deep-rooted issues remain in need of a solution and which will condition much of the growth ahead. Romania may rank top in the EU for its overall crop production, but this is almost entirely the result of large cultivated areas; the overall production continues to rely on weather conditions. The country boasts some 14.6 million hectares of farmland (out of which some 64 percent is arable) or about of 5.41 percent of the EU's total farming area), according to data from the Ministry of Agriculture. This ranks Romania sixth in the EU, after France, Spain, UK, Germany and Poland. Despite this, yields per hectare are some of the lowest in the region, local authorities admit.
The main factor behind the low yields is the high fragmentation of land. There were some 3.86 million farms in Romania at the end of 2010, the highest figure in the EU, according to Eurostat. A staggering 97.7 percent were farms that cultivated less than 10 hectares, or about 38.7 percent of the country's total agricultural land, according to the 2010 farming census. At the other end of the spectrum, large commercial farms, cultivating areas of over 100 hectares, represented only 0.3 percent of the total number of farms, but 48.8 percent of the country's agricultural land.
A high dependency on weather conditions makes matters worse. While official data on this year's harvest are not yet out, the drought has taken its toll, and as much as 30 percent of the corn production is estimated to have been compromised, according to data from the European Commission and the World Food Organization. Given that some 90 percent of the irrigation system has been destroyed and of the 3.3 million hectares irrigated in 1989, only 300,000 hectares are currently being used, investing in irrigation infrastructure is crucial. Nevertheless, local authorities have yet to come up with a coherent plan. A recent draft bill on a EUR 1 billion investment plan in much needed irrigation infrastructure has failed to pass Parliament as not enough MPs were present for the vote. Almost EUR 600 million is currently available from European funds, for the improvement of the secondary irrigation infrastructure, according to agriculture minister Daniel Constantin. However, according to World Bank reports, approximately EUR 1 billion is needed for the rehabilitation of the main irrigation infrastructure for the country.
New NPRD promises better-targeted investment programs
Some EUR 9.85 billion are available for Romanian farmers for investment projects between 2014 and 2020 from the European Union. How these funds can be accessed is regulated by the country's National Program for Rural Development (NPRD) for the period 2014-2020.
Increasing agricultural production through higher productivity and investments in the production of value-added goods are the main two objectives the Romanian authorities had in mind when drafting the NPRD, according to ministry representatives.
The program includes 19 measures, down from the 24 in the NPRD for 2007-2013, which, officials say should allow a better focus on the needs of local farmers and which should help solve some of the issues the sector is dealing with. Special focus will be given to investments in production for both small and large farms, with a dedicated program for investments in orchards, the integration of production chains and incentives for young Romanians looking to set up a farming business in rural areas.
The new NPRD also comes with the promise of simplified and more flexible application procedures and less bureaucracy. As part of this attempt, an online application tool was made available last year along with a price reference list for equipment acquisition. The ministry has also committed to scaling back the control of beneficiaries to a minimum.
The NPRD was drafted within the context of a reformed Common Agricultural Policy (CAP) which takes into consideration the specific structural situations of different EU member states and allows each country to spend EU funds based on its own development strategy.
In addition to the new NPRD, Romanian farmers have also seen changes to the subsidy system. Starting last year, Romanian farmers started receiving higher subsidies in the form of single area payment plans. During 2014-2020, Romania will have access to some EUR 10.6 billion in direct payments, up by 47.5 percent compared to the 2007-2013 period, an additional incentive for potential new investors.