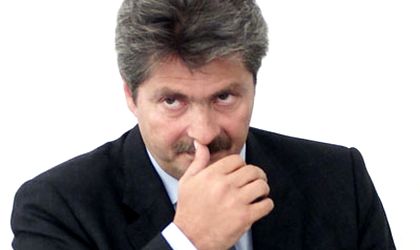 Romanian businessman and former media owner Sorin Ovidiu Vantu was taken into Police custody on Thursday morning (January 23) after having allegedly tried to leave the country.
The former mogul, aided by other parties, used forged identity documents to obtain an ID and a passport of Moldavian origin, documents which had his picture and falsified data, according to the High Court of Cassation and Justice Parquet (HCCJP).
The Criminal Prosecution office established that under the name of a Moldavian citizen, the Moldavian Authorities issued an identity card and a passport stamped with pictures that did not belong to the aforementioned citizen. Furthermore, their likeness corresponded to Vintu Sorin Ovidiu, Romanian citizen. Upon investigation, it was "clearly" established that the picture in the documents belong to Sorin Ovidiu Vantu, according to the High Court.
As such, a warrant was issued for Vantu, which was brought in by the police on Thursday morning. According to B1TV, Sorin Ovidiu Vantu tried to assume the identity of "Sorin Haralambie".
Back in 2012, Vantu was convicted and sentenced to one year in jail for having blackmailed the former manager of Realitatea Media, Sebastian Ghita. He served the sentence and was released in May 2013.
A previous court sentenced him to six months in jail but prosecutors insisted on upping his sentence to five years in jail. This is Vantu's first conviction, but may not be his last as he is being investigated for money laundering and the FNI Ponzi scheme from the late 90s.
Vantu used to own TV station Realitatea TV, which he officially sold to real estate investor Elan Schwartzenberg in 2011.