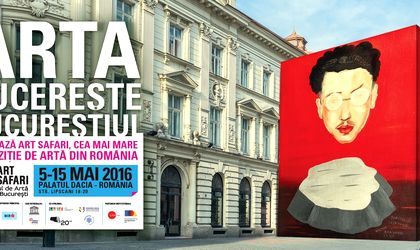 The third edition of Art Safari Bucharest takes place at Dacia-România Palace from May 5 to May 15. Located in Bucharest's Old Town at Lipscani 18-20, the monument building will be hosting this grand art event, gathering more than 50 galleries from Romania and abroad, which will exhibit artworks signed by over 800 artists from the XX and XXI centuries.
Celebrating Dada movement
Read also: Art historian Erwin Kessler puts spotlight on Tristan Tzara's work
The main exhibition will be dedicated to 100 years of Dada movement. Dada in Romania and the Spirit of the Avant-garde, main exhibition curated by Raya Zommer-Tal, Director of Janco-Dada Museum in Ein Hod, Israel, and Research Curator Igor Mocanu, specialist Romanian Avant-garde. They will present important works from museums and private collections in Romania: Victor Brauner, Arthur Segal, Ion Bitzan, Tristan Tzara, Jean David, Brassaï, Jules Perahim, Max Ernst , Hans Janos Mattis-Teutsch, Margareta Sterian, Ion Grigorescu.
Moreover, the program of Art Safari will also include conferences held by renowned international specialists such as Tom Sandqvist – professor, University College of Arts, Crafts, and Design din Stockholm (Sweden), Estelle Pietrzyk – head curator of the Museum of Modern and Contemporary Art in Strasbourg (France), and Michael Finkenthal – professor, Johns Hopkins University, Baltimore (U.S.).
The entire list of the galleries is available here.
A one-day ticket to Art Safari costs RON 50 for adults and RON 30 for children aged under 12, students and pensioners. A five-day subscription is RON 120 and a ten-day subscription is RON 240.
Oana Vasiliu