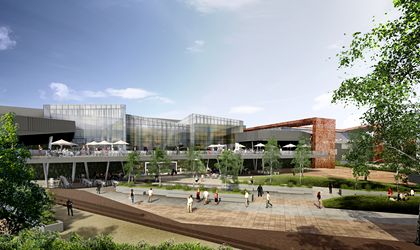 Portuguese shopping center developer and owner Sonae Sierra has appointed Monica Alexandru as its new leasing manager for Romania. She will coordinate the leasing activities of the local shopping centers managed by Sonae Sierra including that of the ParkLake shopping center which is being developed in Bucharest.
Construction of the EUR 180 million mall located in eastern Bucharest on the Liviu Rebreanu Blvd. started earlier this year. The 70,000 sqm GLA project should be completed in 2016.
The mall is developed by Sonae Sierra and Irish developer Caelum Development which signed a 50:50 joint venture agreement in October 2012. This was the second joint venture agreement the two companies had reached to build the same project after the first one, signed in 2008, was canceled.
The now notorious ParkLake Plaza shopping mall was first announced in 2007 and was supposed to be the largest shopping mall in Bucharest at that time. Caelum Development had plans to invest EUR 500 million in the project which initially was meant to have a gross leasable area of 110,000 sqm.
Alexandru has graduated from ASE Bucharest. Prior to joining Sonae Sierra, she worked as marketing & leasing manager for Caelum Development. She had held the same position in various real estate companies, since 1999, accumulating 15 years of experience in leasing activities.
As a leasing manager, Alexandru will be responsible for creating the tenant-mix of ParkLake, as well as prospecting new potential tenants, negotiating offers and lease contracts for managed centers like River Plaza Mall.
Simona Bazavan