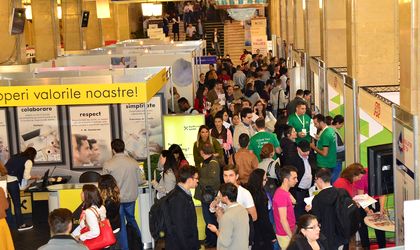 About 69 percent of the companies taking part in the Angajatori de top job fair will have paid internships on offer during March 25 and 26, according to a press release by the fair organizers.
When it comes to fully established jobs within the company, some 34 percent of companies will offer entry-level salaries of EUR 300-400, while middle-level positions will receive EUR 700-1,000. Around 84 percent of employers are ready to offer EUR 1,500 and over for seniority positions.
Beside wages, more and more companies in Romania (52 percent of companies present at the fair) are offering several types of benefits, including monthly subscriptions at the gym, massages at the workplace, flexible working schedules, partial discounts for the home Internet subscription, unlimited vacation days, 25 percent overtime bonus for the weekend working hours, or various classes (cooking, nutrition, stress management, first-aid or parenting).
The fair has 100 participants with different activity areas like FMCG, IT, Telecom, Retail, Pharma, Engineering, BPO, Banking, E-commerce, Insurance, Audit and Consulting. The offer includes some 5,000 jobs and 750 internship posts, while organizers add to this 35 skill shops, tech labs and conferences and free counseling sessions.
Angajatori de top is a job fair at its 20th edition and will take place on March 25 and 26 at Sala Palatului. More details on the event can be found at www.hipo.ro.
Natalia Martian