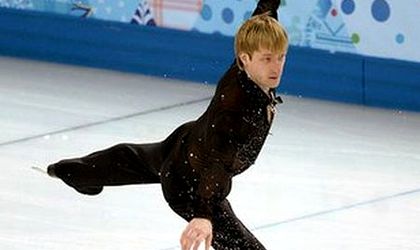 Russian figure skater Evgeni Plushenko withdrew from the mens individual event at the Olympics, stunning the hometown crowd in Sochi. In doing so, Plushenko announced his retirement from amateur skating, making it the last time the former gold-medalist will step on Olympic ice.
At the age of 31,  Plushenko decided to attend the Winter Olympic Games for a third time despite a recent spinal surgery. On Sunday, he brought Russia its first gold medal along with nine of his teammates in Sochi as part of the team figure skating competition. But four days later, when it came time for him to perform in the men's singles, he skated up to the judges booth after a warm-up and told them he couldn't go on.
As TIME reported earlier this week, Plushenko's back was troubling him toward the end of his solo performance at Sunday's team event. But he and his coaches boldly decided to carry on. "There are no healthy athletes in the major leagues," said his coach, Alexei Mishin. "Everybody hurts."
"It was like a knife in the back," Plushenko said of the pain he felt on the ice.
After the withdrawal, Team Russia's chances of a gold disappeared in the event it has long dominated. Russia could have replaced Plushenko, but it missed the deadline for a substitution. The russian skater said he now sees the men's gold medal as a three-way race between Japan's Hanyu, Canada's Chan and Spain's Fernandez. In a twisted sens of irony, Romania's Zoltan Kelemen managed to qualify for the Free Program,  with the last score (60.41, 24th out of 24 qualified skaters). If Plushenko wouldn't have dropped out, Kelemen probablly wouldn't have made it past the Short Program stage.
After the Men's Short Program, Hanyu is in the lead, with Chan hot on his trail and Fernandez coming in third. The Men's Free Program is scheduled for today, starting at 17:00 (Romania time).
Should Plushenko make a complete recovery, Romanian audiences will have a chance to see him skate on April 5, for the Kings on Ice Olympic Gala in Bucharest.