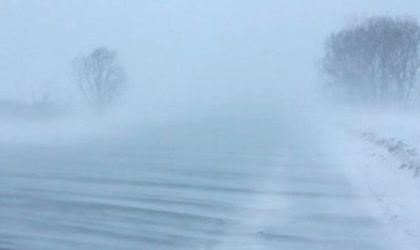 A new Code Orange alert of snowfalls and blizzard has been issued for Bucharest and 14 counties in Muntenia (southern Romania), southern Moldavia (southeast), and Dobrogea (southeast), starting on Wednesday at 6 a.m., according to the National Meteorological Administration. Until Wednesday night at 11 p.m., blizzards will be intense in most of Muntenia, southern Moldavia, and Dobrogea, with wind gusts temporarily exceeding 60-70 kmph. After 11 PM, the code orange will be restricted to the south-east, while Bucharest remains under code yellow until Thursday, 10 AM.
Between 15:00 and 22:00, 6 counties in the south-east (Braila, Buzau, Calarasi, Ialomita, Constanta and Tulcea) will be under Code Red:
– wind speeds of over 85 km/h
– heavy snowfalls
– visibility close to 0.
Two highways (A2, A3) and seven national roads remain closed for traffic on Wednesday, and over 177 trains were canceled. The Ministry of Education made the decision to cancel schools days in Bucharest and 18 other counties.
On top of everything, the Meteorology Administration announced it's very possible for a code red to be reinstated Wednesday afternoon in the south-east.
As a result of transportation being thrown in upheaval, Romania is losing hundreds of millions of euro per day.  Distributors and transportation companies face difficulties in delivering their goods, retailers see their supplies dwindling and Bucharest hotels have experienced a fair share of cancellations as a result of the authorities' incompetence in clearing the roads.
Transporters
Half of the 110.000 trucks that deliver goods daily across Romania's highways have been kept in stand-by in the last few days, which amounts to losses of EUR 10-15 mln/day. The National Union of Road Hauliers from Romania (UNTRR) estimates that the economy is losing in total over EUR 280 million per day as long as traffic in the south and south-east remains closed. 
"The transport industry and its auxiliaries (logistics, distribution) contributes 5% of Romania's GDP (…) We have to work and in order to work we need conditions", according to Constantin Isac, director of UNTRR. He continues
"We demand that our contributions to the state budget be used for construction and maintenance of roads so that I can work for 365 days per year without being stopped during the winter because there's a blizzard, or during the summer because it is too hot. It is a totally wrong way to go about business in Romania and it is highly damaging".
Retailers
Retailers announced on Tuesday that bad weather is causing difficulties to their supply routes to certain units, especially in Moldova where roads remain closed. In this context, client numbers are on the rise, Romanians looking to store supplies for the coming days.
"Right now we don't have any trucks stuck on the road, but given that Moldova is closed off, we can't supply stores in that area", per Billa representatives.
Delia Nica, executive Director of the Great Retail Association in Romania, said that while there are some problems in the areas under code orange and yellow, clients should not have any problems as long as stores hold buffer-stocks for 2 to 3 days.
"We cannot reach Buzau, Braila, we can not find trucks for deliveries since transporters are afraid they will find their vehicles stuck. Clients shouldn't worry though. Stores have stockpiles meant to last 2-3 days", Nica explained.
On days like these, the AMRCR representatives explained that supply operated at 60% of a normal delivery day. The biggest problems are for goods in the vegetable and dairy categories.
Railroad commercial transport
"The situation is dramatic. We have 6 trains stuck and other 14 on stand-by", according to Kinga Madarasan, Transferoviar Grup's administrator.
"Every month we have a turnover of RON 9-10 million. If we can't move, we lose RON 3-4 million. (EUR 750.000 – 900.000). If we can't deliver wares, factories can't perform. For example, we cannot deliver chemical products from Chimcomplex to Constanta. Again, we can't supply Dacia factories. It is dramatic", Madarasan explains.
Romania is losing millions of euros everyday if commercial trains don't operate, according to George Buruiana, president of the Association of Romanian Railway Freight Operators (AFTER).
Hotels
Hotel owners in Bucharest claim that air flight cancellations and closed roads determined hundreds of clients to cancel their reservations. On the other hand, other clients prolonged their stay since they were unable to leave th city. 
"We have cancellation and clients that stayed an extra day. We can feel the strain. We are at 27% of capacity as opposed to no vacancies a couple of days ago", according to an employee of Hotel Berthelot.
Hotel Radisson Blue on Calea Victoriei didn't feel as big of an impact, most of their clientele being foreign. Air traffic wasn't as perturbed by the weather, and according to Adrian Adam, sales director at Radisson Blu, "january was a good month".