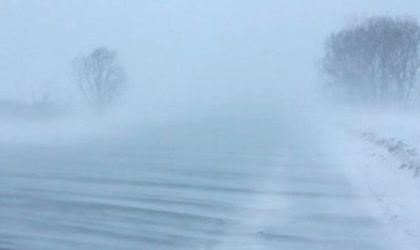 A third of the country is still experiencing heavy snowing and blizzards, while the authorities are scrambling to get the country back on its feet, while at the same time preparing for more weather-related problems coming up in the middle of the week.
According to the weather prognosis, eastern Muntenia, Doborogea and most of Moldova will continue to experience snowing on Monday, and the wind will blow with an average speed of 50 km/h.
In counties  Buzău, Brăila, Ialomiţa, Călăraşi, Vrancea, Galaţi, Constanţa and Tulcea, the weather will remain severe, with more powerful blizzards and reduced visibility.
Victor Ponta said on Sunday night that that the week ahead holds many challenges and will be very difficult, from a "weather point of view". The prime-minister believes that "we can't breathe easily after Monday and we must be just as alert iu the weak ahead", especially since the weather forecast announced that on Wednesday and Thursday the blizzards will return.
Ponta appealed to the population to restrain themselves when it comes to transportation to problem areas and to respect the measures imposed by authorities.
"Rather then going on the road and becoming stuck, we're not letting them leave at all", Ponta said.
Vice Prime Minister Liviu Dragnea said he would ask the Prime Minister to issue the state of alert in the counties of Buzau, Brala and Vrancea, which were under a Code Red for snowstorms for six hours on Sunday (January 26).
On Monday, traffic remained shut down on two highways (A2 and A3) and 24 other national roads, while Bucuresti-Pitesti highway was opened for traffic. The ministry of Education decided during the weekend to keep schools closed in Bucharest on Monday and Tuesday. Schools in 27 other counties will be closed on Monday, as well as 3 universities: University of Bucharest, Valahia University in Targoviste and The University of Pitesti.
In Bucharest, public transport is operating at normal capacity on Monday, and mayor Oprescu appealed to the inhabitants to limit their transport options to buses and trams, so as to not worsen traffic conditions. 347 snowplows worked throughout the night to clear the major arteries but the mayor announced on Saturday that there's still snow blocking public transport stations and sidewalks.