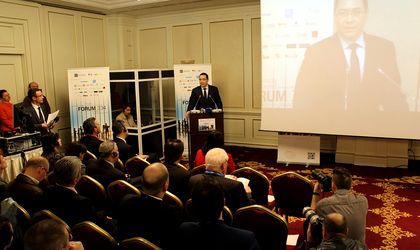 Business opportunities in infrastructure, automotive, agro-food and healthcare were the main interests of the 80 French companies that came to Bucharest last week as part of a Ubifrance regional economic forum. In response to sluggish economic growth on Western markets, many French companies – and SMEs in particular – are now looking east for business opportunities and Romania is on their radar.
[restrict]
Simona Bazavan
Some 1,600 business-to-business meetings between French companies interested in doing business in the region – and in Romania in particular – and local firms were held last week in Bucharest as part of the France-Eastern Europe economic forum organized by the Ubifrance economic agency. The event should start bearing fruit by yearend with about 30 new French firms expected to start operations in the region, say organizers.
France is already Romania's fourth largest trading partner and the third largest investor in the country, with a EUR 7.2 million stock of FDI. Some 38 of the 40 largest French companies have set up local operations over the past 20 years, Christophe Lecourtier, general director of Ubifrance, told BR. Moreover, players such as Renault have a strong say in the local economy, measurable through their share in the GDP and the country's annual exports.
Over recent years, giants such as Lafarge, Saint-Gobain, Michelin and Orange have continued to invest locally, but there have been very few newcomers, Philippe Garcia, director of the economic mission at Ubifrance Romania, told BR. This is about to change, as there is renewed interest in the local economy and French companies have Romania on their radar once again. However, this time around, it will mostly be small and medium-sized companies that will lead the wave. Sluggish growth on Western markets is now making such companies look east for business opportunities, where Poland and Romania are the main destinations. These are competitive firms "that can cope with the needs of the Romanian economy" and that would bring about a more honed dimension to Romanian economic growth, said Lecourtier.
What's the focus?
Infrastructure and professional development were two of the main areas of interest for French companies, both from the perspective of issues that need to be addressed and as potential business opportunities, commented Philippe Gustin, the French ambassador to Bucharest.
Overall, some 350 companies were present at the event, of which 80 were French. The main areas of interest were infrastructure and the automotive industry, agro-food and health, according to Garcia. In the automotive sector alone, between 30 and 40 new French firms are expected to set up local operations this year and the next as suppliers to Renault, he said. Another 15 companies came to Bucharest looking to sign deals with local retailers for the export of food products, and 20 companies, including firms from Morocco, are interested in the local health sector.
"Among the French companies that are coming, we expect at least 60 to 70 percent concretization of business plans over the next six months," said Garcia, adding that newcomers to Romania are pleasantly surprised by what they discover. "When they return to France they are probably the best ambassadors of Romania as a place to come to either to do business or as a tourist," he added.
Why the renewed interest?
Economic growth has been stagnating in France for around eight years, a situation that the country has not had to deal with since the 30s, said Lecourtier. Growth has been sluggish throughout Western Europe too, pushing French companies to look east for growth or to emerging markets outside the continent. The Romanian economy, on the other hand, boasts above EU average growth and the size of the market and its workforce also make it attractive as a hub for French expansion in the region, he added.
This year Ubifrance will hold similar economic forums to the one held in Bucharest last week only in Morocco and Brazil. One was held in December in South Africa, which goes to show what is economically attractive to French companies right now, stressed Lecourtier. "We have to look east, and when we look east we see Romania as the main pillar of such a strategy," he added.
[/restrict]