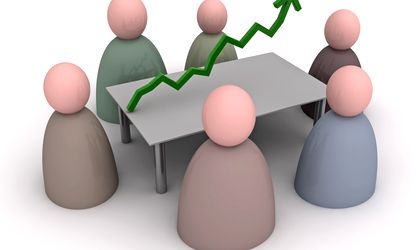 Excessive taxation, inflation and a slump in demand on the local market are some of the major issues that Romanian SMEs are facing. A new edition of the Business Review event SMEs How To will give insight into ways such firms can access financing and useful tools for handling a business from marketing, IT&C, fiscal and educational perspectives.
[restrict]
By Otilia Haraga
The top business opportunities for SMEs this year lie in the growth in demand on the local market (cited by 63.48 percent of SMEs in 2014, though down slightly from 64.67 percent in 2013), the assimilation of new products (60.93 percent of SMEs in 2014 against 50.75 percent in 2013), penetration of new markets (42.77 versus 44.40 percent), the use of new technologies (30.66 percent compared with 26.37 percent in 2013) and sealing a business partnership (for 30.27 percent of SMEs against 26.93 percent in 2013), according to a survey carried out by the Romanian National Council of Small and Medium Private Enterprises (CNIPMMR) on 1,569 entrepreneurs.
For only 9.75 percent of SMEs the opportunity will lie in boosting exports (as opposed to 7.65 percent in 2013) and for 7.65 percent (versus 11.31 percent) in obtaining a grant.
Local SMEs still face major hurdles. According to data from the CNIPMMR survey, the three biggest difficulties SMEs are confronted with this year are excessive taxation, which is a problem for 58.06 percent of SMEs, followed by inflation (55.45 percent) and the decrease in demand on the local market (55.39 percent).
However, SMEs' troubles do not stop here. For instance, 45.70 percent say they are grappling with red tape, 44.55 percent with excessive controls, 40.92 percent with unfair competition and 32.25 percent with corruption.
And there are other smaller obstacles such as competition from imported products (in the case of 22.75 percent of SMEs), growth of the wage bill (18.61 percent), the high cost of loans (14.60 percent) and the challenges of employing, training and maintaining personnel (14.53 percent).
Meanwhile, other macroeconomic factors are playing a lesser part in SMEs' fight for survival. These are the relative instability of the national currency, for 12.94 percent, the poor quality of the infrastructure (12.24 percent) and the difficult access to loans (10.45 percent).
The challenges that worry small firms the least are delays in payment from private firms (for 9.56 percent of SMEs), falling demand for exports (7.07 percent), non-payment of bills by state institutions (4.21 percent), obtaining the necessary consultancy and training (3.95 percent) and ignorance or lack of adoption of the community acquis (for 1.91 percent).
"From a strictly statistical viewpoint, the indicators show that the crisis is over. However, the business environment is waiting for much more," said Ovidiu Nicolescu, president of the CNIPMMR.
Romania could have economic growth of 3 percent this year, according to Ioana Petrescu, minister of finance.
"We hope that statistical data which point to a 3.5-4 percent annual growth will be true. For now, the indicators show very high growth in the first months of the year. Our view is that some of this growth will come from the crackdown on the black economy," commented Nicolescu.
In an attempt to lend a hand to SMEs financially, a government plan to partially cover salaries at firms that generate a minimum of 20 jobs was approved in April. The financial support will be provided for two years.
"The new state aid scheme includes non-reimbursable financing, within limits, of salary costs (for gross average salaries) over a period of two consecutive years where firms create a minimum of 20 new jobs through an initial investment. We can sign agreements for participation in the support scheme until 2020, and the de minimis payments will be made over 2015-2025, as much as the budget allows," stated government officials.
However, CNIPMMR officials claim this project, although useful for big players, will not be of much help to SMEs. "This project is a very good one, but for large companies. It is important that the incentives correspond to the size of the firm," he said. The CNIPMMR proposed that the minimum threshold of jobs created by firms be cut and made progressive.
"Our demands were that micro-enterprises should create a minimum of three jobs, small enterprises should create five-six jobs and mid-size firms should create between 10 and 12 jobs," said Nicolescu.
At the moment, there are no significant differences between the European average number of jobs at SMEs and the Romanian average, he said.
IT can be an enabler for SME growth
Software solutions can help tackle some of the financial leaks that beset cash-strapped SMEs.
"In Romania, outdated solutions that do not meet the current needs and requirements of the market are still being used," commented Liviu Buligan, executive manager at SoftOne, who will attend the SMEs How To event. He suggested that things are, however, moving in the right direction.
According to Buligan, the budget that SMEs set aside for investment in software solutions to optimize activity is generally less than 10 percent of the annual profit.
"Since the start of the year, we have seen much higher demand for the implementation of business software solutions, triggered by the fact that young entrepreneurs and SMEs have been able to access non-reimbursable funds from the state budget," said Buligan.
He recommends the cloud ERP as the most cost-effective solution, which even small and medium companies can afford because it does away with various expenses incurred through having their own server. SMEs will no longer have to worry about the costs of IT staff, with their own servers, equipment and so on.
"A large weight of the total cost of a traditional ERP is implementation costs, which include infrastructure and consultancy for using, configuration and customization. These drawbacks can be completely removed by using a cloud ERP," said Buligan.
According to Bogdan Balaci, CEO of cloud provider Ymens, who will also be present at SMEs How To, cloud computing technology allows small and medium companies to access the same applications and services that were once available only to enterprise organizations. "In a more and more dynamic market, an SME using cloud is agile, technologically updated and competitive," he commented.
Furthermore, the cloud brings great opportunities for optimizing operational costs. "In Europe, up to 81 percent of companies using cloud reported cost reductions, while 41 percent saw productivity increase and 35 percent gained new business," said the CEO.
Balaci added, "In Romania, an Ymens case study revealed that a medium distribution company increased the number of business opportunities by 35 percent and the number of net new customers by 7 percent. These were the results reported by the firm after only three months of using cloud solutions in order to better manage the relationships with customers."
[/restrict]