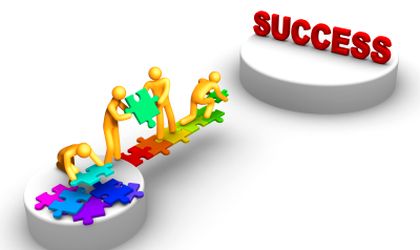 Approximately 51.7 percent of managers and entrepreneurs participating in the survey "The Health State of Romanian Management in 2013," carried out by the National Council of Private Small and Medium Enterprises (CNIPMMR), said Romanian management is below the EU level, while 42.8 percent also believe management in Romania is under the Central and Eastern Europe average as well, said Ovidiu Nicolescu, president of the CNIPMMR during the SMEs How To event organized by Business Review on May 26, and attended by members of the SME community.
Moreover, 76 percent of respondents claim managers in Romania are unable to confront the financial crisis and its consequences.
Among the main flaws of management in Romania, the highest ranked is the failure to motivate the employees of an organization, with 46.53 percent of respondents identifying this as an issue. Also, 45 percent pointed to deficient or non-existent strategies and policies in organizations.
"Romania has a historic handicap when it comes to motivating employees, which derives from the communist period when it was the only country in the world where negative motivation was national policy," said Nicolescu.
Companies can motivate employees either via material- financial tools such as salaries, bonuses or/and by moral-spiritual means, which are even more important than the first.
"When authorities grant 5-7 percent salary increases to everybody in the public sector, no one is motivated. The salary growth must be complex and differential, based on performances," commented Nicolescu.
Each organization can motivate its employees by taking several steps. The first would be to diagnose the status of the organization from the global, economic and managerial point of view, with an focus on human resource. Secondly, draft a strategy and policy for the company.
"Less than 15 percent of Romanian SMEs say they have a strategy and most of them are unprofessional," commented Nicolescu.
Thirdly, what needs to be done is design the managerial system of the company.
Fourth, a special motivation module should be devised for the organization.Last but not least, the plan should be implemented and evaluated.
"However, in Romania, less than one in six companies resort to consultancy, which is a huge mistake," said Nicolescu.
Romania suffers from shortage of SMEs
The number of SME businesses in Romania is rather low compared to the population.
"In Romania there are little over 400,000 enterprises reported to a population of 19 million. By contrast, in a neighboring state with half this population there are 430,000 SMEs," Cezar Iliu, GD General Directorate for SMEs and Cooperation, Department for SMEs, Business Environment and Tourism, Ministry of Economy, pointed out during the SMEs How To event.
Moreover, most companies in Romania are micro-enterprises or small enterprises while the mid-size stratum is very thin. Bucharest exceeds by 22 percent the European entrepreneurial average, but there are 28 counties where entrepreneurship is lacking. "Romania is having a hard time stimulating entrepreneurship in the territory," said Iliu. "The Romanian entrepreneurial spirit is suffering,"  he concluded.
Otilia Haraga