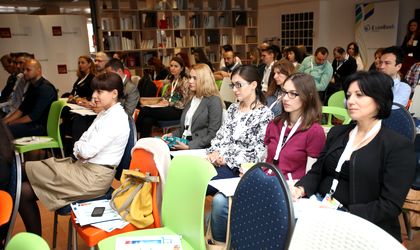 From marketing, branding andtechnology and their importance in business development, to information on financing options and ways to access European funds or government grants, Business Review's SME's HOW TO conference gave the floor to a large panel of speakers who brought to the foreground key business information, illuminating case studies, and practical solutions for managers, entrepreneurs and investors.
 By Andreea Marinas
On May 28, Business Review organized for the third year running SME's HOW TO, an event dedicated to small and medium-sized enterprises (SMEs).
The list of speakers included: Mihai Sfintescu, partner at 3TS Capital Partners; Vladimir Oane, director of product, Hootsuite Media Inc.; Raluca Nan, senior project specialist at the EBRD, Marcin Wojcicki, business development manager at the Bucharest Stock Exhcnage (BVB); and Marius Bostan, founder and senior partner at VMB Partners and chairman and founding member of the National Foundation of Young Managers.
The current challenges and main tax and law aspects of interest to SMEs were debated by attorney Luisiana Dobrinescu of Dobrinescu Dobrev, and Ana Maria Andronic, partner at Biris Goran. Marketing and branding topics were also discussed by Andrei Cohn, managing director at Cohn & Jansen, and Andrei Rosca, general manager at Spada.
Social media plays major role for start-ups
From the starting point that a Romanian brand shouldn't be a reflection of society, but an attitude, Cohn discussed the past and present Romanian advertising landscape. "I'm a local entrepreneur and I started when everything that was done was a cosmopolitan pastiche of things we were seeing over the fence, both in terms of business – how an advertising agency works – and the things we were doing," he told participants. "At the beginning, everything local was not only practically forbidden, but also unwanted and inadequate. We were looking for the glossiness of the commercials we were seeing abroad."
Manager and entrepreneur Andrei Rosca, general manager of digital media agency Spada, tackled various social media related topics at SME's HOW TO. "I don't have experience as an employee, but I do have two complementary experiences which helped me see social media from a different perspective. Years of entrepreneurship gave me an internal investment-oriented comprehension of marketing and social media: palpable, indisputable and which can be translated into likes, but rarely. Usually it is about how much money you make after a campaign. This because from an entrepreneurial perspective, budgets are not always large, so we have to justify every action quickly," said Rosca.
He predicted, "Facebook might vanish in three years; maybe a new social network will overtake it. What is certain is that we will not return to unidirectional communication."
The "magic" cloud
With the growing popularity of cloud, managers from Ymens and Vodafone suggested how technology could be better exploited in business. Marius Andronache, Enterprise Business Unit ICT & cloud manager at Vodafone Romania, said, "In Romania we are still in the Stone Age. In Denmark over two thirds of payments are non-cash. They want to go to the next level: a fully non-cash payment system. The basic idea is that consumer behavior is changing."
Alexandru Molodoi, CTO at Idea City, said cloud technology could help startups and less advanced businesses gain access to advanced technology. "What would it mean to implement enterprise technology on my own servers when I'm at the beginning? Investing capital in implementation services and in people to manage these servers. Cloud comes and gives me these technologies at time zero. I just need the implementation, which is usually easier than traditional solutions. I can start with one or two users," he said.
"We should go further and ask: 'Everyone uses information technology – how do we differentiate ourselves?' The answer is that we can use more or less technology. We can use it like everyone else, or we can customize it to our needs," he argued.
Still on the topic of cloud technology, Alina Georgescu, sales director at Ymens, told the audience about a study conducted by Harvard Business Review, which found that over 57 of participating companies consider cloud a business differentiator. "Cloud brings flexibility, mobility, a dimensioning of the solutions or services used, in particular for your type of business, providing the possibility of medium- and long-term scalability," She said.  Georgescu also touched on consumer behavior in Romania: "Culturally speaking, we adopt technology by looking in the neighbor's yard. This is also transmitted in the business sector and can sometimes be good for us if this step comes at the right time or is taken because others on the market are offering similar things."
Georgescu added that, according to statistics, it is seven times more expensive to attract a new customer than to keep an existing one. "Since industrialization, we don't talk about raw material, but goods – their associated costs and availability. Several vendors offer the same product, so what's the difference between them? So consumer behavior has changed," she commented. "In the last five-six years we've been talking about services. Even if behind these services there are often products, most companies position them as services with a focus is on improving their quality. Since last year, both globally and locally, we've been talking about a new concept: experience. Many vendors are now pointing at the customer interaction experience. We're trying to make sure the interaction is personal and customized."
Local business legislation and practices in the spotlight
Experts also weighed in on various tax and law matters. Luisiana Dobrinescu, lawyer at Dobrinescu Dobrev, addressed anti-tax fraud measures and other legal aspects of interest to SMEs. "As you may have seen, in recent months there has been a good marketing campaign from ANAF – Your Tax. All the financial administrations had banners and roll-ups, which hadn't seen before, with posters urging voluntary compliance, which is not a bad thing. But you may have also noticed a pretty aggressive campaign by the relatively newly established general anti-tax fraud department that closed companies for RON 10."
She added that it was very useful, in the event of a tax inspection, for a businessperson to know how to protect themselves from their co-contractors' fraud. "Over the past two years, about 60 percent of the complaints I have dealt with arise because a beneficiary of services, my client, has contracted deliveries of goods or services from a company that has not paid its taxes to the state. ANAF sanctions such firms through non-deductibility and requests for money back from these beneficiaries."
She advised that that civil conventions should be used only for occasional activities "if you are busy and need a person for a project for only two or three months". Dobrinescu also talked about fiscal re-qualification following the IRS model. "It has a few dozen questions, including what you do in your line of work. So this IRS model of questions will determine through self-assessment your dependent or independent character."
The lawyer noted that for each set of services, both provider and beneficiary must complete a statement specifying the amount of money on the contract and the identifier, which is the tax receipt.
Regarding intellectual property, Ana Maria Andronic, partner at Biris Goran, added, "All intellectual property rights belong to the individual whose creations are in question, and not to the company.
uberVU compares local and international environments
Another guest speaker at SME's HOW TO 2015 was Vladimir Oane, product director at Hootsuite Media Inc., who addressed Romanian businesses and legislation while touching on the merits of setting up a company abroad. "We haven't brought much value to the Romanian economy; not because we didn't want to, but because we couldn't,"said Oane.
He said the uberVU team could not find marketing and salespeople or ones able to close deals with renowned companies such as Facebook. "This is why we set up a company based in the US," said Oane, uberVU founder. He added that because of the poor legislation governing business angels and intellectual property, it is difficult to bring specialists from abroad, for instance from the UK or US.
Oane emphasized that in technology, almost all acquisitions lose money. "A company should not be created with the aim of selling it afterwards, which often leads to failure," he said, adding that uberVU never aimed to be purchased by Hootsuite.
Last year, Hootsuite acquired uberVU, a local innovator in social analytics. uberVU's product is a next-generation social analytics solution that turns data from blogs, forums and social networks into actionable business insights.
Entrepreneurship forecasts
2015 and the coming years will be a time for entrepreneurs, and Romania will see a better macroeconomic year, predicted panel members.
Mihai Sfintescu, partner at 3TS Capital Partners, said, "Last year was pretty good as well, so we are witnessing expansive growth that helped mainly SMEs. I think that multinationals were doing well before, too. We're also seeing many support programs for small businesses, in particular for SMEs. There are numerous programs from the European Commission, EBRD, IMF plus various government programs. So from that perspective I believe it is a good year to start or develop a business," said Sfintescu.
Raluca Nan, senior project specialist at EBRD Small Business Support (SBS) Romania, also believes the local economy will do better this year. "From our point of view, 2015 started much better than 2014. It is a brisk year in terms of both access to financing and to consultancy. Companies are more interested in accessing consultancy, be it marketing consultancy, development strategies or the search for strategic partners, and want to optimize their costs, so it is a year that began and continues at a better pace than last year," said Nan.
Ramona Ivan, director at CEC Bank, struck a different note. "After two optimistic and positive messages, I will try to respond with at least a neutral one. In banking, there are alternatives and various European funds, but unfortunately very few measures for entrepreneurs and SMEs are open today," she said. The director underscored that there are government programs, but "unfortunately the ministry was tougher on the budget for this sector. A specific department dealing with the program is now preparing to launch it."
The Bucharest Stock Exchange (BVB) is also expecting a good year for entrepreneurship. Marcin Wojcicki, business development manager at the BVB, believes that 2015-2017 will favor entrepreneurs. "Entrepreneurs and SMEs make a very large contribution to the development of the economy and Romania. Maintaining the optimistic note, recently a survey was published which said the majority of SMEs and startups were expecting profit from their business. Macroeconomic factors should help SMEs grow and Romania is a fast-growing country in the European Union. Obviously that's due to the low base," he said, adding that the BVB should be where capital is obtained. "Currently the BVB is taking a number of initiatives to make the stock exchange an alternative source of capital for companies."
Wojcicki noted that on February 25, the BVB launched the AeRO market, dedicated to SMEs and startups. "We should raise EUR 2 million in the first round to start investing in SMEs in Romania," said the BVB official. "IT and agriculture companies can become our partners… The exchange also gives companies the chance to raise capital in pre-revenue stages."
Marius Bostan, founder and senior partner of VMB Partners, and chairman and founding member of the National Foundation of Young Managers, sees an obvious opportunity window for SMEs. "From the macroeconomic figures, the early growth, the announcements made by the government, how justice is moving and the recent clean-up, I believe there are chances. It seems that the political environment has begun taking the business environment into account, and as long as they consider the business environment and citizens, I believe things will become stable. Meanwhile, we're seeing growing interest from Western countries in supporting Romania. I believe there is money; we need people and entrepreneurs to create surplus value."
The human factor and its weight in business
Managing human resources in Romanian companies and legal system presents some challenges. A seven-year study in Britain of over 100 foreign companies showed that good HR management, as well as other factors, accounted for more of the variance in profitability and productivity than did technology, or research and development.
During the third edition of the SMEs HOW TO, as part of the session dedicated to HR practices – Trainings and employee development – Andrei Gosu, the general manager of Ascendis, Adela Jansen, HR executive director with BRD and Dorina Surugiu, managing director at MSM, tried to outline the challenges met in this sector.
"Absolutely all recruitment, career management, succession plan processes can apply, from my point of view, to small companies. If we speak specifically about recruitment, we can refer to two actors – the one who is being recruited and the one who is recruiting. If the recruiter knows very well what he must seek, I don't think there is a border between an SME and a multinational. I believe the profile must be defined properly and afterwards to be recruited the person who best matches it. In other words, if I want a manager at some point, perhaps the right thing to do is to sometimes choose him in my own image," said Adela Jansen.
Her opinion regarding companies' investment in people is: "In absolutely any period, remember to invest in people. I decided at some point to fight anyone who came to the bank management, to have a budget for training, because I firmly believe that also in a period, or that particularly in a period when you have to optimize your company, to get organized, to do things, it is the time you need to raise skills and to get better when the business resumes an upward trend." Having also talked about the investment in the human factor when doing business, Andrei Gosu believes that, for a start-up, the training for employees can be rather a cost than an investment. Dorina Surugiu, on the other hand, thinks that at least for the first couple of years, corporations can be a very good learning environment.
As keynote speakers, at the end of the event organized by BR and dedicated to SMEs, Wargha Enayati, the founder of Regina Maria medical center and Mihai Sfintescu, partner 3TS Capital Partners, taught the participants how to sell their business. "Some of the keys to success in business are love, faith, the drive and the ability to serve," said Enayati.