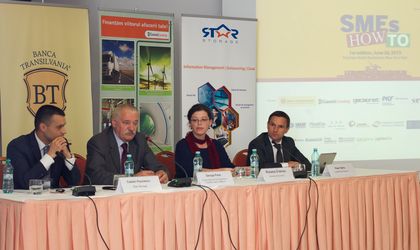 Local SMEs are currently grappling with a range of challenges: an unfavorable economic environment, lack of entrepreneurial culture and difficulty in accessing financing, which in turn makes them less competitive and innovative. However, financing options and cost-saving solutions are available. Pundits from the state and private sector laid them out at the SMEs How To event organized by BR.
By Otilia Haraga
Small and medium enterprises (SMEs) in Romania are insufficiently prepared and not innovative enough. The sector is not a solid one, and many jobs have been axed. Between 2011 and 2012, for every newly founded SME in Romania, one ceased its activity, said Peter Barta, executive director of the Post Privatizare Foundation.
The lack of a sound entrepreneurial tradition is not helping the SMEs' case, either. "Entrepreneurial education should become a strategic target but there are few such programs. Most entrepreneurs see participation in these programs as a cost when in fact they should see it as an investment," said Barta.
While SMEs make up 99.7 percent of companies and provide 65.7 percent of jobs, there are not enough financing opportunities in Romania. For this reason, startups find it very hard to take off. Access to bank loans is restrictive and alternative sources of financing are lacking, Barta pointed out.
"Romania is among the few countries without a fund for early-stage financing. Unfortunately, many entrepreneurs who have obtained early-stage financing did so from investment funds abroad," he said.
Giving the example of Sillicon Valley, Barta said the Sillicon Valley Bank offers financing to startups and works with incubators. "In Romania there are few incubators and many of them are in agony," he said.
But it is not all bad news. "One positive thing is the significant growth of micro-lending, because these solutions help the entrepreneurial process," Barta added. Romania is in fifth place in Europe for the number of beneficiaries of micro-lending and this is growing.
However, Romania fares worse than other European countries for SME development. Locally there are only 23 SMEs per 1,000 inhabitants while in the West there are 41. This indicates once again that local SMEs are barely surviving and have a poor technological base, said Barta.
What's more, in Romania, there are serious inequalities between the various regions: nearly 23 percent of active Romanian SMEs are located in the Bucharest-Ilfov area. In the north-east of the country there are 15.2 SMEs per 1,000 inhabitants while the south-Western Oltenia region has 16.4, said Barta.
State lends a helping hand
The Romanian state offers some financing options that SMEs can take advantage of.
Roxana Craciun, counsler at the Directorate for Implementing Projects and Programs for SMEs, at the Ministry of Economy, gave an overview of the seven national programs available to SMEs in Romania, which are financed from the state budget.
First she outlined the program for the development and modernization of the trade of services and products.
The procedure for this program has been sent to the Official Registry.
It has a budget of RON 17 million in 2013 and can finance up to 212 beneficiaries. Non-reimbursable financing is at most 80 percent for micro-enterprises, up to 70 percent for small firms and a maximum of 60 percent for medium-sized companies.
Secondly, there is a program that supports craftsmen, currently in the project stage, which has an allocated budget of RON 1 million for 2013.
Thirdly, a program that is already up and running aims to encourage young entrepreneurs to set up a startup, with an allocated budget of RON 25 million and a maximum number of 587 beneficiaries. Financing can be granted in combination with a bank loan – with 50 percent being non-reimbursable aid and 50 percent a loan, most of it guaranteed by the National Fund for Loan Guarantee for SMEs – or without one – if the entrepreneur comes up with 50 percent of the money.
Fourthly, the already operational Mihail Kogalniceanu program for SMEs, with an allocated annual budget of more than RON 16 million, aims to support SMEs in obtaining funds to cover their annual liquidity needs. There are 13 loan institutions partnering in this program and the maximum financing limit is RON 400,000.
Fifthly, there is a program for developing entrepreneurship abilities in young people and their access to START financing programs. The procedure for this program has been sent to the Official Registry. The program has an allocated annual budget of RON 20 million and a maximum of 200 beneficiaries. There are two types of financing, in combination with a bank loan – with 70 percent being non-reimbursable financing and the remaining 30 percent covered by the loan – and without a loan – where 30 percent is covered from the entrepreneur's own resources.
The sixth program aims to develop entrepreneurial abilities in women SME managers, and is currently in the draft stage. The program has an annual budget of RON 500,000. Non-reimbursable financing represents 90 percent of the eligible costs, but no more than RON 41,500 per beneficiary.
Last but not least is a program that aims to create and develop business incubators, and eventually create a network of them in Romania, for which the procedure has been sent to the Official Registry. The program has an annual allocated budget of RON 6.47 million.
Romania also has several state schemes for non-reimbursable financing. Roxana Mircea, managing partner at REI Finance Advisors, gave an overview of the available ones. "We are approaching the end of a government scheme that financed projects worth EUR 5 million. At the end of July, the beginning of August, is the deadline for submitting projects for this scheme," she warned.
She also spoke about the Minimis financing scheme through which SMEs can obtain up to EUR 200,000 of non-reimbursable financing. About RON 400 million will be allocated in total as part of the program and the period for applications opens on August 16.
 "This scheme functions extremely well compared to European projects. The reimbursement takes place within two months of submitting the acquisition documentation and proof of payment. Payment is made in stages or all at once. There is fierce competition and the scheme works on a first come, first served basis," added Mircea.
 Cloud, an option for SMEs
Apart from taking up financing, SMEs can seek to reduce costs internally. For instance, cloud computing can be a viable option to slash IT-related costs, said pundits. "Only in the absurd situation in which an SME does not want to optimize its work process and become competitive, would I not recommend the usage of cloud services, Catalin Paunescu, managing director at Star Storage, tells BR.
"Unfortunately, the ratio of SMEs that know about the existence, and especially the benefits of, cloud computing, is very small. Why unfortunately? Because in these difficult times, in an economic environment that is extremely unfavorable to entrepreneurial initiatives that do not have reserves, access to capital and the latest technologies, the use of cloud computing and its associated benefits – the decrease in IT costs, zero initial investments, pay-per-use which makes the business more agile – can mean the difference between survival (performance and profitability) and bankruptcy," says Paunescu.
He also points out that SMEs must understand that the high technology available via cloud computing is not expensive. "We have very often met SME representatives who have this unjustified fear," says Paunescu.
In a previous discussion with BR, Alexandru Molodoi, CTO of Gecadnet, said that according to the company's estimations, approximately 25 percent of Romanian SMEs have used public cloud. "By adopting public cloud solutions, companies can cut their costs by more than half. The public cloud significantly shrinks hardware costs and eliminates the electricity costs of servers, as well as the costs of the staff that provides hardware and software maintenance for the servers," he explained.
otilia.haraga@business-review.ro