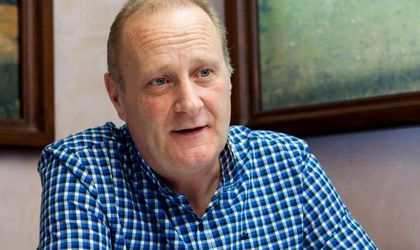 Kevin Hill, corporate head chef at City Grill Group, sat down with Business Review to reveal the challenges of putting together the menu for one of Bucharest's best known restaurant chains, how he's getting to grips with local cuisine and the chain's efforts to dish up the next generation of chefs.
[restrict]
How did you find out about the position available as corporate head chef for City Grill Group?
Last summer, I was driving along the M11 motorway in Great Britain, to the restaurant I was working at that time, Lussmanns Fish & Grill, when I received an hour and a half long phone call from Daniel Mischie, the COO of City Grill Group. A few days later, I was having a face to face conversation with him here in Bucharest and after a complete tour of the restaurants and rounds of discussions, I took the job.
What does a corporate head chef do?
First and foremost, a head chef should inspire the team, to make them want a career, not only a job. Secondly, everything that goes out of the kitchen is the responsibility of the chef; therefore, it is essential for the person with this job to be able to maintain complete control of the kitchen at all times and to command the respect of his kitchen staff. This is why the "students" of the cooking academy that I am running here have on their arm the Chef's Academy logo and the word "respect". Also, I am charged with maximizing the productivity of the kitchen staff, from ingredients to personnel.
What is the Chef's Academy and how does it work?
The Chef's Academy is a six-month training program from Monday to Thursday, three hours per day, where the students learn to develop both their cooking and management skills. The academy pilot program has been running since autumn and the first five students are about to become real chefs. In my opinion, being a chef requires management, time and cost efficiency skills, but most importantly the capacity to share what you know. Furthermore, you must think outside the box and know the secrets of other cultures around the world – this is why an important chapter of our cooking academy is the so-called Eclectic Week, when students learn about international dishes. All the participants are City Grill employees and the training program is fully-booked for the next two sessions. On February 27, all of the students will graduate to officially become head chefs, and will pass their knowledge onto the next generation of students. Until then, everyone can taste what they are doing in the academy, as the new City Grill menu is cooked under their supervision.
The group serves mostly traditional Romanian food. Was it difficult to adapt to the local cuisine?
Romanian cuisine is similar to Polish food, especially when it comes to meat preparation, and I am used to that food from working with lots of Polish people in Great Britain. However, I'm here to upgrade the brand, not particularly the food. For example, I haven't even found out how all the dishes from our menus are made. Also, this adaptation should come in time, because I have to learn the specifics of Romanian flavors and for this to happen, I must travel. So far, my trips have been from home to the office! However, I have actually "played" with some Romanian dishes: at City Grill Covaci, you can taste a different polenta, which I created. Also, I've put on the menu a Chit Chat appetizer, which consists of lemon hummus, pesto and roasted red pepper dips, crudités, pickled Turkish chili peppers and capers, created mostly for women who come to our restaurant for a glass of wine with a female friend. The sticky toffee pudding served with caramel sauce and a scoop of vanilla ice cream is also my suggestion.
How often do the menus change at each of the City Grill Group restaurants?
Every season has its particular menu, which is largely discussed in advance with the board and the supplier manager. Also, for weddings, banquets, private dinners and New Year's Eve parties, the menu is being rebranded, in a bid to reflect the current dining trends and styles, such as the organic approach that we are implementing in City Grill restaurants.
Kevin Hill CV
July 2013-present: corporate head chef, City Grill Group
April 2013-July 2013: group executive chef, Lussmanns Fish & Grill
2011-February 2013: group catering manager, Brook Hotels (a 21-hotel group comprising grade II-listed three- and four-star properties)
2007-2011: group executive chef, Hammersmith group brands (a division of Marstons Inns & Taverns encompassing Pitcher and Piano, Bluu, Que Pasa, and Landmark Pubs)
2005-2007: group executive chef at Spice Inns gastro pubs for Hertfordshire & surrounding districts
With background including military studies, he served on the Royal Navy and the Royal Australian Air Force between 1976 and 1990. After leaving the military, he started working as a chef in Adelaide, Australia, until 2002, when he returned to Europe.
Oana Vasiliu
[/restrict]