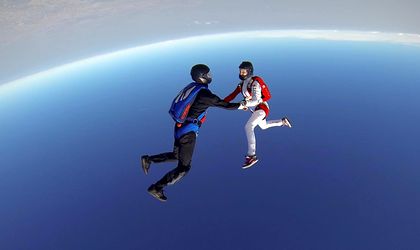 Adrenaline lovers are welcomed at Bucharest Skydiving Boogie, the first skydiving festival for amateurs and professionals, where the organizers have prepared 4,000 m jumps, air shows and parties.
The amateurs can feel the adrenaline in a jump made in tandem with an instructor from Pilatus Porter airplanes that are available for this manifestation. The cost of a jump is RON 930, including also video and photos.
For those who already have a license to jump, an angle flying workshop was designed for them, with special guests like world champions Scott Plamer (USA), Will Penny (South Africa) and Petter Johnson (Sweden).
The Dynamite Days, as the organizers called the period, will start on May 21 until May 25, at Clinceni aerodrome, Ilfov county, 16 km away from Bucharest, Bucuresti-Alexandria road.
Oana Vasiliu