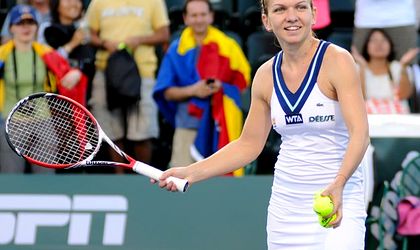 The Romanian tennis player Simona Halep has won the 500,000-dollar WTA tournament in Shenzhen (China) on Saturday, after defeating finalist Timea Bacsinszky (Switzerland), #8 seed, 6-2, 6-2. Halep dominated no. 8 seed Bacsinszky, not facing any break points on serve in a match that was longer than 62 minutes.
For Simona, this was her first tournament with her new technical staff, the Swedish Thomas Hogstedt and the Romanian Victor Ionita. It is also the 9th WTA title of her carreer after those in Nuremberg, 's-Hertogenbosch, Budapest, New Haven, Moscow, Sofia (all in 2013), Doha and Bucharest (both in 2014).
In an interview after the final, the Romanian tennis player explained that she managed to overcome sickness to win the game.
"I wasn't feeling very well before the match – I was a little bit sick – so I told myself I have nothing to lose, just go on court, be relaxed, stay focused and fight for every point," Halep explained, quoted by Eurosport.
"It worked, and I felt really relaxed today. I'm happy I could play better day by day and match by match here. I'm looking forward to playing like today in the next tournament, maybe even better."
Simona Halep, who received 280 WTA points for the Shenzhen title, was rewarded by the former Chinese great champion Na Li with a 111,163 USD check. Next on the list for Simona will be the Australian open, where she is also the main favorite.