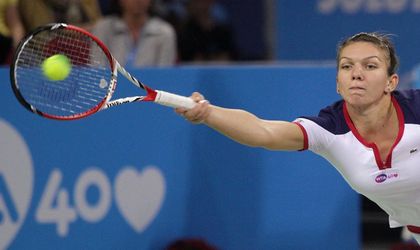 Seventh-seeded Simona Halep won her first title of the year with a 6-2, 6-3 victory over sixth-seeded Angelique Kerber of Germany in the Qatar Open final on Sunday. It's the seventh career title for Halep, with the other six all won last year: Nürnberg, Hertogenbosch, Budapest, New Haven, Moscow and Sofia.
"I think it's the best, because it's the biggest tournament which I won," Halep said.
Kerber had four break point opportunities in the match, but was unable to disrupt Simona's serve and come out on top.
"It's tough to play against a player like Simona," Kerber said. "I was trying to play my game plan, but it was not easy … she hit the balls very well and on the line", Kerber was quoted by ESPN.
The triumph at Doha pushed Simona Halep to the 9th place WTA, from her previous 10th position ranking. Simona Halep won a cash prize of USD 441,000 and also was awarded  900 WTA points.
"I just want to be focused for every point, to fight for every point," Halep said.