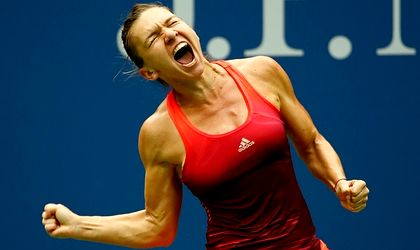 Simona Halep battled past Victoria Azarenka in a two and a half hour marathon to reach the semi-finals of the US Open for the first time in her career, shows the WTA website.
After taking the first set, 6-3, second seeded Halep lost the second one, 4-6. The match between the two was interrupted by rain, in the third set, after two hours and four minutes, with Azarenka leading 2-1 and Halep serving at 40-15. Coming back, the Romanian won the last set at 6-4.
Simona Halep finished with more than twice as many winners as unforced errors on the stats sheet, 40 to 19, three aces and six double faults. Azarenka evened out with 38 winners and 42 unforced errors.
"I was trying to find solutions. But she played really well today," Azarenka said afterwards. "I was a little bit surprised by the pace of her ball, to be honest. I think that, and a couple of free points that I gave away today, cost me the match a little bit. But I have to say she played very well."
The Belarussian (26 years old), WTA unmber 20, had beaten Halep in both their previous matches, the rounds of 16 in Doha (6-3, 6-1) and Linz (6-1, 6-1), in 2012.
Next, Halep faces Italian Flavia Penneta, WTA number 26.
"It looks like she's not that powerful like Vika, but she is," Pennetta said of her future opponent. "She's more powerful, I think. And to make a winner against her you have to finish the point seven times. She's always there. The ball just always comes back, and it's going to be like a marathon, I think."
The qualification to the semi-final comes with USD 805,000 in prize money and 780 WTA points.
The other semi-final on Friday opposes world leader Serena Williams to Italian Roberta Vinci.
Natalia Martian