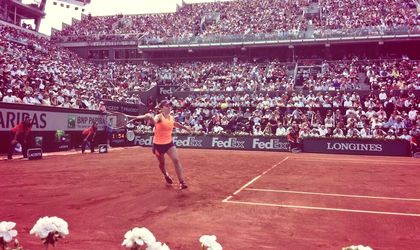 Maria Sharapova won the French Open after defeating Romanian player Simona Halep 6-4, 6-7, 6-4 in a beautifully played three hour final.
Coming into the match with a 3-0 head-to-head advantage over her opponent, French Open favourite and seventh seed Maria Sharapova took on fourth seed Simona Halep of Romania in the women's singles final at Court Phillippe Chatrier.
Maria Sharapova stated after the game that this has been the most difficult Grand Slam final that she has ever played in her career and that she has immense respect for Simona and her abilities.
Starting monday,  Simona Halep will be ranked No. 3 in the world whether she wins or loses the French Open final. A year ago, she was ranked No. 57.
Earlier in the day, Ioana Ducu and Loredana Rosca won the Girls' Doubles final. The Romanian duo met played against Cathreine Cartan Bellis / Marketa Vondrusova (USA/Czech Republic) with the match ending 6-1, 5-7, 11-9 after an hour and opt minutes of play.