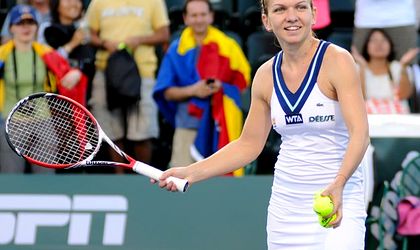 Simona Halep defeated Briton Heather Watson on Thursday,  6-2, 6-4 to reach the third round of the French Open. Now that the top two seeds, Serena Williams and Li Na, have departed, she's the player with the most legitimate claim to title favouritism (if you don't count on Maria Sharapova), according to the event's official website.
"I want just to stay focused for every match, because here every match it's very tough. It's a tough tournament, and I have to play my best, to do everything on court match by match, and after, I will see how far I can go. I expect every match difficult, so I cannot say that I'm thinking about the finals or something like this. (…) I feel good, and I had two good matches here. I'm happy that I could finish today. The second set was a little bit difficult. I was a little bit nervous. But I served well, and that was good", Simona Halep commented at the press conference after her game against Heather Watson.
Halep moves on to face Maria-Teresa Torro-Flor, the Marrakech champion and the only unseeded player to make it into the third round in Halep's quarter of the draw. Until now, Simona Halep's best performance at the French Open was making to the 2nd round in 2011.
The international press is impressed with Simona Halep's game but also with her ascension, constantly pointing out that only last year, she was ranked 57th in the WTA and now is seen as the favourite to take home the Roland Garros Title.
"Bloody Romanians, going to Paris, potentially knocking a British player out of the French Open. I mean really, it won't do. Who does Simona Halep think she is anyway? Answer: the world No4 and the tournament favourite now that Serena Williams is out, that's who!"
"Halep has inherited the mantle of the highest-ranked seed in the bottom half of the draw after Li Na's defeat on Tuesday. She has not always coped with this sort of pressure well, but on Thursday she looked the part: a phenomenally athletic mover who can redirect the path of the ball at will"
"The woman to beat at this year's French Open has been hiding in plain sight. (…) Casual tennis fans might now be asking, Who is this Simona? Answer: The woman with the second-best record, right behind Serena Williams, since the beginning of the Internazionali BNl d'Italia in Rome last year. (…)
Those who follow the sport closely have been high on Halep for years. She won the French Open junior title in 2008 and there are few women in the game who get around the court as quickly or with as much precision."
"The 22-year-old Romanian combines speed around the court with consistent ball-striking"