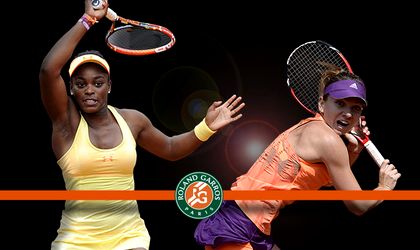 Simona Halep won her 4th round match against Sloane Stephens 6-4, 6-3. The Romanian player will go on to play in the quarterfinals at Roland Garros.
Not only is this the best performance Halep ever recorded at Roland Garros, but it is also only the second time she reached the Quarterfinals stage at a Grand Slam Tournament.
In the next stage, Simona Halep will play against the winner from the match between the Lucie Safarova (Czech republic, 24th in the WTA ranking) and Svetlana Kuznetzova Match (Russia, 28th WTA).
Before the match on Monday, Halep and Stephens have met on the court three times before, with the Romanian achieving a single victory against Stephens in Barcelona, in 2012, on a clay court.
Simona Halep said she remembered well her past experience with Sloane Stephens in a press conference before the match:
"I remember playing with Sloane in Australia, she beat me easily. But now I think I am more ready to face her, I have matured a lot. She always plays very well in the Slam tournaments, so it will be tough. But it's time we younger players start to win something important, even though I am already feeling old. There are a lot of younger girls around there (she is born in 1991)".
"I am 100% made in Romania! We have really good facilities there and I started play tennis in my country and became good staying there", Simona also said.