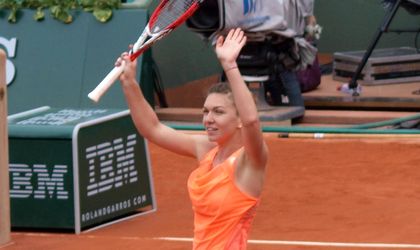 Romanian tennis player Simona Halep qualified the final at the Roland Garros French Open after beating Germany's Andrea Petkovic 6-2, 7-6.
Fourth-seed Halep has been the highest-ranked player left in the tournament for some time but she had reached just one grand slam quarter-final before. Now she is through to the final without dropping a set and will climb to world number three on Monday.
"I just want to play my style, to be aggressive to stay very close to the baseline. Today I stayed a little bit far from the baseline but she played very well. She's a very strong player and she hit very strong so I had to adjust to stay focused to fight for every ball, every point. I think I did well because in the tie break I changed a little bit and a hit a drop-shot and she didn't know how to play that point and I won that one. I think that was a very important moment of the second set", Simona said in the press conference after the match.
"I am very disappointed because I had a lot of chances in the second set. The first set, Simona played really great tennis and I had trouble getting into my rhythm, I had trouble with my footwork and I wasn't on fire. She played really well she was dominating the game and playing great angles. Then when I found my rhythm, I was playing more aggressive. The thing is against Simona you have to play very aggressive but you have to step into the court so she doesn't have the time to play her game because once she starts opening up the court she plays super smart and really owns the whole court. I just didn't take my chances in the second set. I mixed a couple of points where I wasn't clear in my mind what I want to do", Andrea Petkovic commented after the game.
Simona Halep will compete against Maria Sharapova in the final on Saturday. Regardless of the result, Halep will climb one position in the WTA ranking from her current standing . It is the first time in 34 years that Romania is represented in a Roland Garros final.
Maria Sharapova came through 4-6 7-5 6-2 against the 20-year-old Canadian Eugenie Bouchard in two hours and 27 minutes in one of the most tense matches of the day.
It was the third match in a row in which Sharapova had to recover from a set down.
Simona Halep and Maria Sharapova met three times in the past, each match ending with the Russian player's victory.
"I have nothing to lose in the final. I know it will be a tough match, she's a great champion. I played against her in the Madrid final, I know how to play, that I have to give it my all because it's the last match in the tournament, I hope I will enjoy it", Halep said, in an interview for Eurosport.