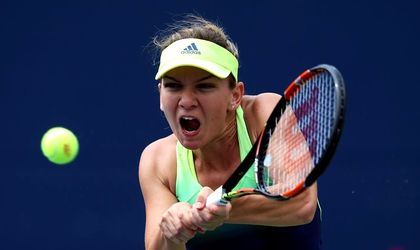 Romanian tennis player Simona Halep succumbed to heat illness during WTA Toronto Rogers Cup final, announces WTA website.
WTA No. 3 Halep decided to abandon the match in the deciding set, at 7-6 (7/5), 6-7 (4/7), 3-0, after a two and a half hour match in scorching conditions. The player had received medical care prior to the second set, feeling the heat effects even then.
Later she said that she played the second set for her fans, who cheered her on and that she was glad she found the strength to win it, but that maybe "the decision to abandon was taken too late".
Second-seeded Halep, 23, won USD 238,200 and 585 WTA points for reaching the final, while the winner was awarded USD 456,000 and 900 WTA points.
This was Halep's fourth final this year in the professional women's tennis competitions, after those in the tournaments of Shenzhen (China), Dubai (UAE), and Indian Wells (USA), which she won.
Belinda Bencic, 18, WTA No 20, who managed to eliminate in the semis 1st seeded player Serena Williams, on Sunday won her second WTA title, after the one in Eastbourne (the UK) in June.
Natalia Martian