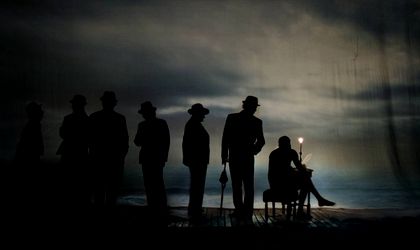 "Gulliver's Travels", the play that Romanian director Silviu Purcarete presented at Edinburgh International Festival, is making waves with its radical adaptation of Jonathan Swift's classic. According to the official website of the festival, "Irish writer Jonathan Swift's savage political satire is seen through the eyes of visionary theatre maker Purcărete with an original score by Irish composer Shaun Davey. Driven by Davey's musical journey, Purcarete's production gathers cultural and social aspects of contemporary society and explores the themes of voyage, dream, exile, immigration, emigration, solitude and togetherness."
The play was staged at Radu Stanca National Theatre of Sibiu, and director Silviu Purcarete literally makes it clear this is no deferential adaptation of the classic. On the festival's review page, Purcarete's play is described as "going on to present a series of tableaux – more physical theatre than traditional staging – inspired by passages from the latter sections of Swift's satire. Here, the mood is at its most misanthropic. The folly of mankind's existence is paraded before us: whether the sickening onset of old age; or the latest crop of newborn infants perpetuating our pitiful line."
For "Gulliver's Travels", Purcărete decided to keep Romanian dialogue to a minimum, and is either subtitled on screens on the side of the stage or translated via voiceovers.
The play was a total success for the festival, being a sold-out event although the King's Theatre hall has 1.200 places. On August 18, the play had two sold-out representations. The critics dubbed Purcarete's play as "often shocking, but always memorable", especially for some grotesque scenes, such as a prostitute who is pilloried and tortured by droog-style tormentors or a baby who is selected from a table and cooked before being offered to a child.
The entire review for Purcarete's "Gulliver's Travels" can be read here.

Oana Vasiliu