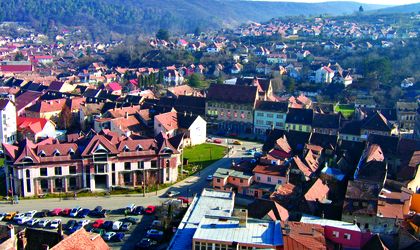 The Romanian town of Sighişoara will receive the 2012 Europe Prize at a ceremony on Saturday 21 July at 5 pm (Citadel Square), to be attended by local personalities and the public.
On this occasion, a delegation of parliamentarians, led by the Chairman of the Sub-Committee on the Europe Prize of the Parliamentary Assembly of the Council of Europe (PACE), Sir Alan Meale (United Kingdom, SOC), will present the prize to Sighişoara's Mayor, Ioan Dorin Dăneşan.
The 2012 Europe Prize has been awarded jointly to the town of Sighişoara and the Italian town of Corciano, for which the award ceremony will be held on 12 August.
This annual prize honours towns and cities for their active promotion of the European ideal, such as twinnings, European events and exchange visits. It consists of a trophy, a medal, a diploma and a scholarship to be spent on a study visit within Europe for young people from the winning town.
The Europe Prize rewards efforts to promote European unity of townships of the 47 Council of Europe member states.
Sighişoara and Corciano are the recipients of the 58th prize since its creation in 1955.
Oana Vasiliu