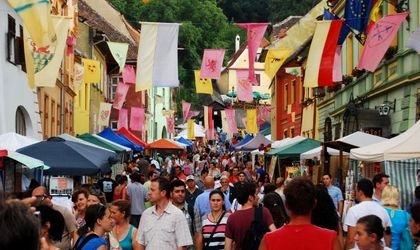 The Sighisoara Medieval Festival has reached its 23rd edition and will take place between July 23 and 26, say organizers.
The theme of this year's edition of the festival is "Minstrels and Troubadours – Five Centuries of Medieval Music and Theatre," and will pay tribute to the memory of film director and actor Sergiu Nicolaescu.
This year, the organizers will attempt to break a word record daily under a series of events titled the "tournament of doings worthy of World Records":
–          "Sword of the Titans" – hammering the world's largest sword – 4.60 meters long;
–          "Knights' Flag" – the world's largest flag ever hoisted in a historic site – measuring 25 – 30 meters;
–          "Giants' Food" – baking a record-breaker pretzel with a 20 m diameter;
–          "Shaman Healer's Mask" – crafting the world's largest folk-art mask – a 4 m tall Romanian traditional mask.
Organizers expect the event to be attended by around 25,000 tourists. Spectators can watch 12 folk bands from Romania and Hungary, seven knightly orders in Romania and Bulgaria, 11 theatre and medieval animations, five exhibitions of plastic arts, three book launches, an organ concert at the Church of the Monastery and three film projections directed by the late Sergiu Nicolaescu.
Also, there will be over 30 hours of live transmission on www.sighisoaramedievala.ro, and a movie night at the Tourist Information Center Sighisoara (Casa Zander). In memoriam honorary director of the 2015 edition is Sergiu Nicolaescu, and the artistic director is Liviu Pancu.
Natalia Martian