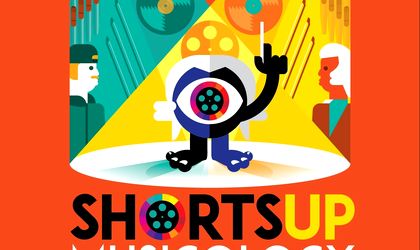 Saturday and Sunday, on 27 and 28 February, starting at 20:00, ShortsUP explores the limits between cinema and music at the Radio Hall in Bucharest. The audience is invited to discover the oldest Romanian shorts reinterpreted to Symphactory orchestra music and a collection of contemporary films inspired by the world of cultural sounds.
There will be 18 musical award winning shorts from Australia, France, Great Britain, Bulgaria and Romania telling the story of man's relationship with music. Trumpets, violins, saxophones, drums, hip hop rhymes and electronic beats, all kinds of music will stream on screen for ShortsUP.
Winner at Sapporo International Short Film Festival, The Gift (Gabriel Robertson, UK, 2015) is the story of a little boy who receives a gift at the anniversary age of 11 that will change his life completely.
Music for a cow (Dan Lund, USA, 2015), scripted and filmed by Dan Lungu, a former animator at Walt Disney and having the soundtrack created by Howard Ashman and Alan Menke, an Oscar winning team, brings forward the story of a bovine soprano and a negligent farmer who learn to respect each other's work, a life lesson about appreciation.
From the Balkans comes I'm going to Italy (Ivaylo Markov, Bulgaria, 2012), a comedy about a group of children musicians determined to follow their dream and have their musical instruments heard all the way in Italy. Nothing can stop them, not even bureaucratic obstacles.
ShortsUP Musicology includes a symphony concert conducted by Daniel Jinga and a musical short films screening, with different programs for each day. More information about the program is available on www.shortsup.ro.
Tickets can be purchased in advance through Eventbook, for RON 35 per night or at the spot, for RON 45 per night. Subscriptions that provide access to both days of the show cost RON 55 in advance or RON 60 on the spot.
Natalia Martian