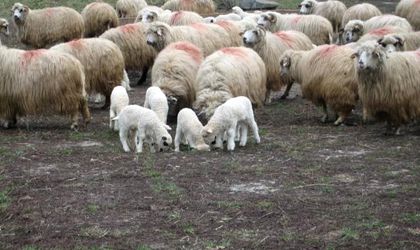 The drought that has been affecting Romania for several months is starting to leave marks on the animal sector, an open letter by representatives of the National Union of Breeders of Sheep and Goats warns.
The union, an affiliate of Agrostar (the National Federation of Unions for Agriculture, Food, Tobacco and Related Services), claims that milk production has already dropped by 50 percent and that breeders are suffering huge losses, while no visible measures are being taken to help.
"We wonder if the Ministry of Agriculture exists anymore, because he's not helping at all. The amount of milk has already decreased by 50 percent and the situation is getting worse by the day. Losses are enormous. Drought affected livestock by decreased milk production and low weight gain in youth, because of the low amount of green mass, which leads to a further decrease by 30 percent in the possibility of producing feed during the feeding period," said Marcel Andrei, president of the National Union of Breeders of Sheep and Goats.
The letter also addresses dissatisfactions connected to aids from 2014 that were not yet distributed and the law concerning hunting, which, according to breeders, is a serious violation of the right to property, allowing too many liberties to hunting associations.
"Changes to the law were approved without consulting breeders associations, are absurd and grossly violate property rights. An example is the ban on grazing lands during December 6 to April 24, a provision which basically stops landowners from harvesting their own crops, if they are favoured by game," Marcel Andrei said.
The union announced its intentions to move to protest, including road blocks, if the situation remains unchanged.
Agrostar Federation includes over 45,000 members, farmers and employees in agriculture and related services, from public and private sector.
Natalia Martian
Romania is a land of contrast. Business Review helps you make sense of Romania.
Is there something that puzzles you about our country? You might also be interested in this.