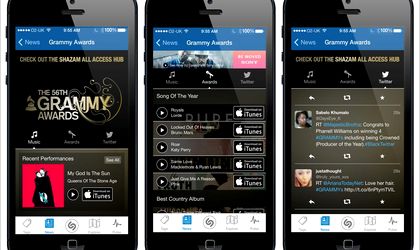 More than 2 million people use the Shazam application in Romania, joining more than 450 million users worldwide. Josh Partridge, director, EMEA advertising at Shazam, tells BR where the service is headed next.
[restrict]
By Otilia Haraga
"What's that song?" "Hang on, I'll just look it up on Shazam!" Probably one of the most frequent conversations between music lovers since Shazam appeared, which is why it is currently one of the world's most downloaded apps, with more than 450 million people using the service in 200 countries.
"We monetize the service in three ways: Shazam is responsible for 7 percent of the world's digital music sales through strong partnerships with iTunes, Amazon and Google play. It also generates revenue through in-app advertising. Finally, the Shazam-enabled ads that you see on television are the company's fastest-growing source of revenue," Josh Partridge, the company's director for EMEA advertising, who attended this year's ICEEFest, told BR.
Presently, the firm has offices in the UK, the US and Australia. "While we currently have no offices in Europe, we work with a number of affiliate agencies, including Mediacafe in Romania. These agencies help us extend the reach of the work Shazam is doing in television, specifically advertising," said Partridge.
The director quotes research done by NPD, which found that one of the top activities that people want to do when watching television is to get more information about the products they see advertised.
"What we have observed is that people who use their smartphones or tablets to engage with advertising are three times as likely to interact further with the brand, twice as likely to talk about the brand, and have a greater future intent and brand affinity," he says.
Currently, over 450 TV ad campaigns from A-list global brands have leveraged Shazam for TV to "continue and complement" their 30-second spots in several minutes of engagement on mobile devices like smartphones, iPads and tablets.
In Romania, these brands so far include KFC and Pepsi, says Partridge.
"Going forward, we will now be able to retarget any user who has 'Shazamed' a specific commercial. For example, if someone 'Shazams' a Jaguar campaign, we will be able not just to give them a customized message to complement the TV commercial, but to reach out again to those users in the following weeks to help Jaguar continue its messaging," Partridge says.
There is a variety of other applications that music lovers can use to broaden their melodic horizons. One of them is Soundwave, available for free to iOS and Android users, which can track what they play via other services such as YouTube, Pandora, iTunes, Spotify, Deezer, 8Tracks or Rdio.
Another music app that offers access to more than 20 million songs is Spotify, which allows users to shuffle any artist or album for free.
Pandora, meanwhile, is a widely used app for listening to online radio on a mobile phone.
And SoundCloud is an application for fans who want to discover and share new music, which can be used even to record and share music right from the smartphone.
[/restrict]