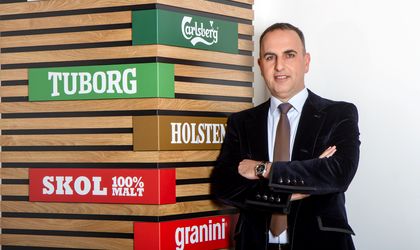 Shachar Shaine returned to the position of President of United Romanian Breweries Bereprod (URBB), company that he was the president and CEO of from 2004 to 2010 the first time around, according to a press release from URBB.
The 47-year-old Shaine has an Executive MBA from Bradford University and over 17 years' experience in "marketing and sales in the FMCG industry and industrial project planning", says the company press release. "The goals I've set for my mandate are consolidating the company's position on the beer market, followed, naturally, by the healthy grow of sales through a sustained strategy regarding the extension of URBB's portfolio and activity in Romania," said Shaine regarding his plans throughout his presidency.
Shaine held the URBB marketing vice-president position for three years starting in 1999, followed by two years as URBB marketing and sales vice-president and then from 2004 to 2010 he was president and CEO of URBB. In 2008 he became president of the Brewers of Romania Association, and in 2009 he was named president of the Foreign Investors Council.
Shaine replaces Hezy Ovadia as president of URBB, who occupied the position for five years from January 2011 up until now.
The URBB portfolio includes brands such as Tuborg, Carlsberg, Holsten, SKOL, Guinness, Kilkenny, the Somersby cider and the refreshments brand Granini, according to the company press release.
Andreea Tint