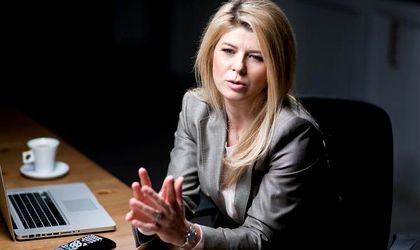 According to a survey carried out by Roland Berger, broadband represents 2.5 percent of the Romanian GDP, which is the equivalent of EUR 3.5 billion.
Severina Pascu (in picture), CEO of UPC Romania and Hungary, urged for a faster development of broadband in Romania, given that only 63 percent of companies and 48 percent of households have fixed broadband connection, according to the survey.
"If we keep the broadband development pace we have had over the past 5 years, we will lag behind. We need to accelerate the development of broadband. Under certain conditions, the broadband contribution to the Romanian GDP can double by 2018," said Pascu during the ZF Digital event.
Pascu urged for investments in infrastructure, outsourcing and software development. "The state should stimulate broadband development through e-government, IT equipment in schools, hospitals, and the public administration, as well as allocate fiscal facilities for reducing costs and carry out campaigns to educate the population. (..) There is a need for the harmonization of the legislation. There are still some pieces missing in the infrastructure law," said Pascu.
UPC invests annually approximately EUR 30 million in infrastructure projects for its TV, internet and telephony services.
The company recently launched speeds of up to 200 Mbps in nine Romanian cities and will grow the coverage of these services to new cities.
The company's CEO said UPC will focus on increasing the capabilities of its network, which now can support speeds of 1 Gbps. "When consumers get to that point, we will provide this speed," said Pascu.
The second strategic target for UPC is to focus on increasing customer experience.
Pascu said the company may not participate in acquiring the rights to broadcast soccer games. "This is a difficult business model, if you look at the prices requested for soccer broadcasting last time. If prices are different, we will definitely be looking but the way things are now, this is not a business case," said Pascu.
Pascu said UPC is looking "opportunistically" at acquisitions on the market but "will not pay anything but the right price."
As part of the Liberty Global strategy, the company is also looking at the possibility to have "a full MVNO structure in which we can integrate a mobile service into our 3-play service."
Otilia Haraga