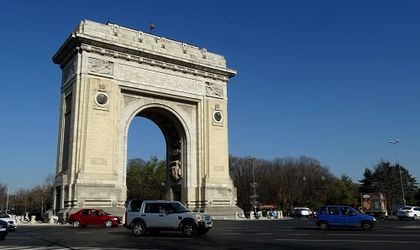 Seven of Bucharest's most famous historical monuments will be rehabilitated and renovated this summer, among which Hanul Gabroveni, mayor Sorin Oprescu said on Sunday, quoted by Mediafax. Four of the Capital's monuments – the Arch of Triumph, the Nicolae Minovici Museum, the Observatory and Cesianu House – will be rehabilitated with European funds.
For the Arch of Triumph works started three months ago and they are currently 25 percent done.
"It is mandatory this monument be open to visitors by December 1, 2015, this is where we will have our military parade", according to Oprescu.
At the Nicolae Minovici museum, the construction site is just being set up.
"We're talking about a monument that is over 109 years old. It will be added to the tourist circuit next year", Oprescu said.
The observatory will enter rehabilitation in July, with a deadline for April 2015. The National Jewish Theatre is also on the list, with work scheduled to begin in August, funded by the city's budget. The Gabroveni Inn is nearly ready, after two years and a half and is currently in the stage of finishing touches, set to be open on August 30.