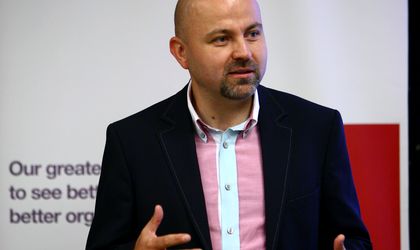 After the merger between Maastricht School of Management and Pilkington-Ratiu Business School, Sergiu Negut, associate dean for entrepreneurial growth at the new entity MsM-Ratiu, tells BR about the upside of the merger and building an entrepreneurial culture in Romania. 
Why was a merger between Maastricht School of Management (MSM) and Pilkington-Ratiu Business School (PRBS) deemed necessary?
The two schools were already operating on the market, sharing a common vision of the development of business culture in Romania via EMBA programs. Both schools sought to develop not just efficient businesspeople but agents of change that can transform the society we live in. Because such a transformation requires a critical mass, it was clear that together we could easily reach our targets and have a stronger voice in the Romanian socio-economic environment.
The merger meant the fusion of the administrative teams and the development of a unified curriculum combining the strong points of the two schools. We now have teachers both from the Romanian business environment and renowned international scholars who are certified by major Western schools.
 What are the biggest obstacles identified by students?
It appears that in Romanian society, myths such as "this does not work here" or "in Romania, it does not work like that" still persist. We are building careers for those who refuse to give up and who constantly ask, "But how would it work?"
More than an entrepreneurial culture, we have the desire and need to develop entrepreneurship. Many people understand that the economy cannot be fully based on foreign investments and it is time to develop Romanian capitalism. Few of those find the opportunities and resources for entrepreneurial development.
How many students do you have for this year's programs?
For the EMBA program we enroll between 22 and 30 participants every year. For the classes that start in September, we have already enrolled most of the participants. The EMBA program offered by MsMR is one of the most extensive programs on the market and the EUR 18,900 fees reflect the high costs of the academic team. We also have some partial scholarships through which we attract highly skilled participants who could not otherwise afford the fees.
There are two types of students, those who come from the corporate environment and those with an entrepreneurial background. However, both categories have something in common: they are preparing to become business developers.
MsMR is a non-profit organization that aims to grow and develop but reinvests all profit in school development. We don't want a bigger EMBA class, but we aim to create more specialized classes for various functions and industries, so that we can double revenues next year.
Otilia Haraga