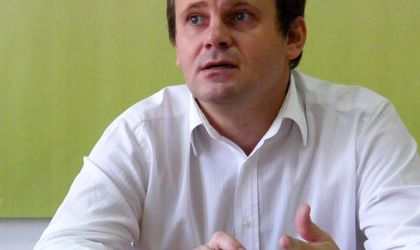 Only one out of ten farmers in Romania is younger than 40, according to some estimations. This must change and young people need to enter the industry, Andrei-Peter Haschi, president of the Federation of Young Romanian Farmers, told BR. But how easy is it for a young person to cultivate a local farming business?
By Simona Bazavan
Why did you decide to set up the Federation of Young Romanian Farmers and what are its long-term plans?
There are already several other groups or associations representing the interests of young farmers but none of them had national coverage. We decided to set up this federation in order to represent the interests of young Romanian farmers. Similar national structures exist in all other EU states. We have also become members of the European Council of Young Farmers, which represents all those working in agriculture and rural development at EU level.
The federation was founded this May, and for the beginning the objective is to reach national coverage. We already have branches in 23 counties. At the same time we are taking the necessary steps to be present in all the committees and working groups where decisions related to agriculture are taken at national level. Also, our members are running in the elections to select the leadership of the chambers of agriculture this autumn.
Who is eligible for membership and what are the conditions for joining?
We are talking about people under the age of 40 working in agriculture or rural development. The profile of our members varies a lot – from people involved in drafting and managing agricultural projects to actual farmers working the land. A very important condition for all of them, however, is to be active members. They have to be involved in what we do. Moreover, this will be monitored and it is a condition for those interested to evolve inside the association.
We want to show that young people have a different approach. The most important thing for us is to offer our members access to important information in due time, information that they will be able to use in their daily activities. This is also why we are looking to have members from all possible areas related to agriculture and rural development. Of course, we will also work together with other associations.
Is agriculture an attractive sector for young people and young entrepreneurs?
Yes, of course it is interesting. On the other hand, so is flying a plane but this does not mean everyone is qualified to do it!
When we talk about young people and agriculture I believe that problems start very early, with the education system, which does not provide basic information about what agriculture is.
What are the main challenges young local farmers face when looking to start a business?
Getting the necessary financing is an important aspect. For example, to cultivate just one hectare of potatoes the necessary investment is RON 10,000 (e.n. approximately EUR 2,200). This is a very large investment for just one hectare. To set up an animal farm is also costly. Of course there are crops which require less money but, nevertheless, I think one needs a lot of money to start an agriculture business.
This is not necessarily discouraging but the truth is that in their relations with banks young farmers are disadvantaged compared to older ones simply because of their age. Not only this, but agriculture is seen as a risky business by banks in general. It is very difficult for them to get loans.
On the other hand, when it comes to accessing EU funds, their age is actually an advantage and projects gain additional points based on this criterion. There are several projects dedicated to young farmers such as the young farmers' installation scheme, which offers them between EUR 25,000 and EUR 40,000 to enter the agriculture sector. It may seem like a lot but this is not very much to start a business.
But the biggest problem when it comes to young farmers, and not only them, is that there is some sort of backward planning when people are considering how to start a business. I also work for the Agency for Payments and Interventions in Agriculture (APIA) and I have seen this a lot. Many begin by looking at what they can do in order to get the EU money available under some measures rather than coming up with a project and a business plan, starting with their own money and perhaps getting a loan and then considering further investments and looking at what EU funds can be accessed for their specific business.
What is usually the background of young farmers in Romania and are they interested in accessing EU funds?
Many young farmers start by helping their parents and later take over the holding or a small farm from them – especially when they see that when accessing EU funds they score additional points for the projects they submit because of their age. I think that those who take over a small holding from their parents – and I'm talking about 2 or 3 hectares of land or no more than 5 cows, can turn it into a business in 5 or 10 years. When talking about larger businesses, meaning more than 200 hectares of land or 100 cows, young farmers usually work with their parents in the business.
I don't have statistics but I don't know of many young farmers starting a business from scratch. Usually they begin by inheriting a piece of land.
As for EU funds, the demand often surpasses the available funds. For example this year in a single application session for Measure 112 (the young farmers' installation scheme) projects worth EUR 272 million were submitted, equivalent to all the money available through that measure until the end of 2013.
Will the Common Agricultural Policy for 2014-2020 offer more incentives for young people to invest in agriculture?
Yes, it will definitely offer more incentives. There are no final figures about the actual financial support but we know that even the direct payments per hectare will be higher for young farmers. Overall, there will be more financial support and additional programs for them.
This will matter and it is welcome of course, as is the fact that agriculture and its importance for the future are being covered more often in the media. However, one must also look at who is talking about agriculture because, as the saying goes, when it comes to agriculture, politics and football everyone thinks they are an expert.