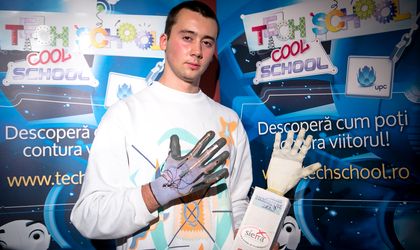 The second edition of the educational program Tech School will include mentors such as Romanians Paul Neculoiu, researcher in artificial intelligence at the European Space Agency, Adrian Stoica from the Jet Propulsion Laboratory/NASA, Adrian Buzatu from CERN, Andrei Alexandrescu from Facebook or foreign ones such as Ben Kaufman from  Quirky.com and Tim Stevens from Engadget.com.
The number of mentors for Tech School has increased from 7 last year to 30 in this edition.
Tech School organized by UPC will be integrated into a new platform called Smart Nation. The competition of ideas in the program has been extended to three age categories, the 11 – 14 year old, the 15 – 19 year old and the 20 – 24 year old, and the total value of the awards was EUR 25,000.
From this edition on, ideas will also be accepted for digital media and gaming apart from the already accepted programming, robotics and astrophysics.
The projects that were awarded, out of 700 submitted ones, were the RoboHand (a robot hand that can have application in engineering) made by Constantin Voiciniuc (in picture) from Botosani, who got the first prize, a shirt with sensors that calls 911 in case of  emergency made by Costin Costea from Slobozia who got the second prize and a grammar application for the mobile and web made by Florin Gheorghe from Ploiesti, who got the third prize.
Otilia Haraga