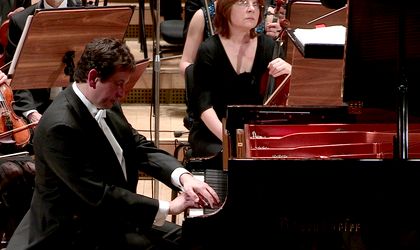 On the last day of winter, February 28, the Radio Hall will present the Romanian pianist Horia Mihail together with the National Radio Orchestra, under the wand of the conductor Tiberiu Soare.
Concerto in A minor for piano and orchestra by Schumann and Symphony in C minor by Brahms will predict Martisor, the Romanian symbol of the spring.
Pianist Horia Mihail made his debut in his native city of Brasov, performing Haydn's Concerto in D major, at the age of only ten. He won first prize at all the piano competitions in which he has taken part.
After lecturing for three years at Boston University, Horia Mihail returned to his native Brasov in 2002 as the soloist of the city's Philharmonic Orchestra and a member of the already famous Romanian Piano Trio, alongside violinist Alexandru Tomescu and cellist Razvan Suma, with whom he has performed to great success in Romania and abroad. With the Romanian Piano Trio he has made three extensive national tours, called Music ON, and also with Alexandru Tomescu he has undertaken three Stradivarius tours. The fruit of these tours has been three CDs with the trio, performing works by Beethoven, Mozart, Schumann and Mendelssohn, and three CDs as part of the duo with Alexandru Tomescu, entitled Encore, Virtuoso and Romantic.
Since 2009, he has been a concert soloist with the Radio Orchestras and Choirs, giving numerous concerts at the Radio Auditorium (with the National Radio Orchestra and conductors Jin Wang, Christian Badea, Gerd Schaller, and Tiberiu Soare), as well as on tour in Romania and in Rome in December 2009 and at the World Exhibition in Shanghai in July 2010.
In April 2011, he gave a national tour of solo recitals to a programme of music entirely by Franz Liszt, called The Travelling Piano: In the Footsteps of Franz Liszt, which forms the basis of a live CD.
The Duel of Violins Project – Stradivarius versus Guarneri brought together violonists Liviu Prunaru and Gabriel Coritoru in 2011 and 2012, and The Three Divas Project with well-known singers Ruxandra Donose, Teodora Gheorghiu and Leontina Vaduva in Iasi, Cluj and Timisoara, in 2011. During the 2011-2013 season the musician helds recitals and concerts in Berlin, Prague, Chisinau, Munich, Denmark, Germany, Lisbon, Shanghai, Buenos Aires etc.
The event takes place on Friday, February 28, from 19.00. Tickets are available on www.bilete.ro, in the offices of the Romanian Postal Company, at the Inmedio shops labeled Bilete.ro, in the Germanos retail chain and at the Radio Hall box office.
Oana Vasiliu