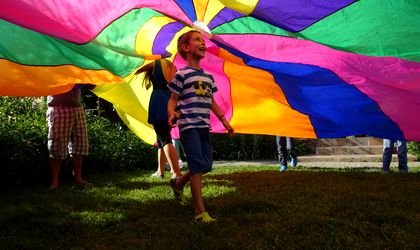 Every June, as the school year ends, parents begin to wonder how they'll keep their children busy through the summer months. To help them out, BR asked the organizers of various summer camps – both national and international – what facilities they offer.
Oana Vasiliu
As temperatures rise, AC units whir and summer vacations get underway, local kids have been summer camp-hopping. Summer camp is an opportunity for children to enhance their personal development, life abilities and social skills, cultivating independence while learning behaviors to smooth their journey to adulthood. "Activities organized in summer camps are designed to help children develop their self-esteem through leadership roles that every child can assume during camp," says Catalina Florea, executive director of Asociatia Telefonul Copilului. She adds that camp is a unique opportunity for kids to interact with others in a less structured medium than school, encouraging them to take their own decisions and increase their self-confidence.
Going to camp also means respecting others and obeying the rules of coexistence for 24 hours a day. Children cannot abandon work on their proposed activities because their parents are standing by to step in and resolve the tasks, and this obliges them to assume responsibility for their actions and respect goals.
"The advantages of spending time this way during the school holidays can be seen after the children return home. When we see them satisfied, proud of themselves, ready to show off the 'maturity' they have developed during camp, then we can say we have made a good investment. The biggest achievement for a child is having managed to 'survive' the camp without parents. However, many children lose the skills acquired during summer camp unless they are supported and encouraged by parents and other family members," concludes Florea.
Programs typically include personal development skills, sports and adventure activities. Medical services are on hand, and transportation from Bucharest to the camp site is included. Organizers interviewed by BR said that most summer camps provide at least three meals a day (with some serving fruit snacks between meals), plus accommodation in separate rooms with bathroom facilities.
Discover Romania
Dalina Borcan, administrator and organizer of the Happy Faces camp in Alba County, told BR that the procedures to apply to run a school camp have changed drastically this year, and many schoolteachers now refuse to get involved in this type of activity because of the bureaucracy. Under these conditions, some parents take their child to a camp themselves. The program that Borcan runs for children aged 5 to 16 includes discovering national heritage landmarks such as Ramet Monastery and Ramet Canyon, plus the city Alba Iulia with its historical buildings: the Citadel Alba Carolina, Reunification Cathedral, Roman Catholic Cathedral, Unification Museum and Union Hall. Additionally, participants can visit the salt mine in Turda, Corvin's Castle in Hunedoara, Sarmisegetuza, see the bisons of Hateg and take the funicular railway up to Deva's Citadel.
In Busteni, Brasov County, Andrei Stefan of Progressive Sports runs both summer and winter camps where children learn mostly survival techniques and adventure is at the heart of all activities. He told BR that over 400 students followed his programs last year with a similar number expected this year.
In its first year of activity, Ana Maria Malaestean of Investin Edu told Business Review that the camp she organizes in Petrosani, Hunedoara County, is run in English, with five specializations: drama, photography, creative writing, trips and adventure sports. Accommodation is provided by the University of Petrosani on its campus and the teachers are young adults from the UK.
Ioana Bineata of ATGR & Old Line Travel hosted over 1,200 children last year at camps in Transfagarasan, Valcea County; Moeciu, Brasov County; and Sighisoara, Mures County and a similar number of attendees are expected this year too, with all places now booked. The most popular pursuits are adventure activities such as alpinism, flying fox (zip line) and archery, as well as team-building games and trekking.
In Avrig, Sibiu County, Claudia Suhov of Kidster leads sports camp and personal development activities for 8- to 14-year-olds. Last year, almost 100 children attended, with the program focusing on team games, developing discipline and taking part in challenges and contests.
Craita Moisa, executive director of Super Tabere, recommends Brasov as a summer camp destination for its adventure activities, such as alpinism, caving, self-defense, archery, trekking and outdoor survival. Last year, almost 100 young people came to the camp, which is also held over winter. All participants receive a DVD with pictures and videos as a memento of their time there.
Going abroad
International summer camps allow participants to practice a foreign language and discover some of the great landmarks of the world. Daniela Pavoni, general director of Mirunette International Education, told BR that last year over 600 teenagers took part in their trips, with 500 already signed up for this year's overseas activities (places are still available). The most popular destinations are Legoland, Harry Potter's Studio Production, the London Eye, Shard, British Museum and Madame Tussauds in the UK, plus Universal Studios, Disneyland and NASA in the US. Prices run from EUR 300 to EUR 3,000.
Cristiana Ungureanu of Regional Air Tours, which has run the project tabere.com in Romania since 1993, offers summers camps at international schools, giving local pupils access to educational programs in countries such as the UK, Germany, France, Switzerland, Spain and the US. For a summer camp in the UK, costs start from GBP 1,300 for two weeks, reaching GBP 2,900 if the teenagers undertake admission programs for British universities or leadership programs. Last year, over 150 Romanian students went on international trips with the organization, a number set to be exceeded this year.