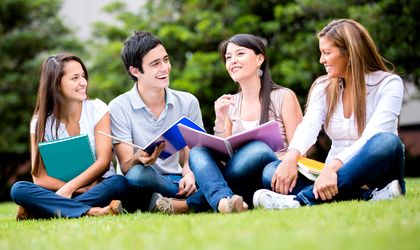 Sometimes it is called "summer slump", teachers call it "summer learning loss", but usually it is known as Summer Brain Drain. However, there is a range of courses that can plug the gap between semesters and stem the tide. BR takes a look at what the Romanian education system has to offer to persuade youngsters to part with their time and money for a summer school.
By Oana Vasiliu
While some people attend summer school to boost their academic performance over the long term, other reasons for going include developing your inter-personal skills. If you are aged from 18-25, one option is LEADERS School, a program designed to build personal leadership, team leadership and leadership communication, offering networking with exceptional young leaders and those at the head of businesses, unusual business simulations led by top Romanian entrepreneurs and mentoring until the age of 25. The program runs from July 28 to August 3, in Predeal (Brasov County), and costs EUR 497.
The same foundation offers LEADERS Academy, an experiential leadership program which helps managers and entrepreneurs discover more about themselves and set goals that will help them become a better leader. Experiential leadership is a collection of practical situations meant to help people develop their leadership abilities. From July 21 to July 27, in Predeal (Brasov County), participants will gain self-knowledge (the discovery of their strong and weak points, awareness of their style of leadership, facing the unknown), communication (discover the power of efficient conversation, building strong relationships and team motivation) and team development (how to put together an efficient team, raising team efficiency through diverse tasks).
The University of Bucharest gives another summer school program, with 53 years of tradition: courses in Romanian language, culture and civilization, from July 22 to August 4. Founded by the renowned linguist Alexandru Rosetti in the 1960s, in Sinaia, and coordinated for several years by Professor Boris Cazacu, the University of Bucharest Summer School is the oldest academic initiative in Romania to promote the Romanian language and culture abroad. During the last 50 years, these courses have gained recognition and prestige due to the participation of many Romanian and foreign academics, as well as distinguished scholars and artists. The participation fee is EUR 500.
Summer School – New Perspectives on Diplomacy is a project organized by the UN Youth Association of Romania from July 25-31 at the Faculty of Law of the University of Bucharest. Throughout the seven days of the summer school, 50 students will have the opportunity to debate the topic and learn from experts in the theory and practice in these field, from foreign and Romanian university professors to diplomats from the Romanian Ministry of Foreign Affairs, lecturers from the Romanian Diplomatic Institute and local representatives of UN institutions. The project will be structured into seminars, which will be highly interactive but will at the same time preserve the character of formal education. Participation costs EUR 100.
oana.vasiliu@business-review.ro