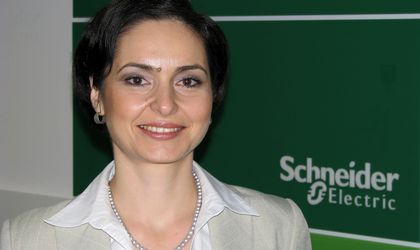 Florentina Totth has been appointed country president of local subsidiary of French Schneider Electric, the maker of power equipment and provider of energy efficiency solutions. She is the first Romanian to head the local subsidiary since its creation 17 years ago.
She is replacing Saulo Spaolanse, who was appointed in the same position at the Singapore subsidiary of the company, after spending three years in Romania.
Totth has gained extensive experience in sales, marketing and general management, with a focus on the IT&C. She was district manager of APC, a provider of power protection products that was acquired by Schneider in 2007, between 2003 and 2003 and 2007. She was country manager of the company through to 2008 and managed Romanian and Bulgarian operations by 2009.
She later held a management position at Schneider Electric, overseeing the IT, Power Solutions & Services and Buildings and Energy divisions.
"In the next period, we aim to maintain our growth targets through our mission of helping companies and people to use energy resources in an efficient manner," said the new country president.
Schneider Electric has operations in over 100 countries and reported sales of EUR 24 billion in 2012.
Ovidiu Posirca